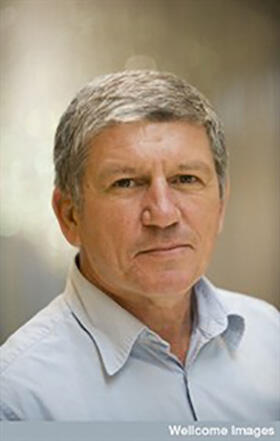 LSTM is delighted to announce that the 100th recipient of the Mary Kingsley medal, which has been awarded since 1903 for outstanding contributions in the field of tropical medicine, will be Professor Kevin Marsh.
Kevin Marsh is senior advisor at the African Academy of Sciences and Professor of Tropical Medicine at the University of Oxford.  An alumnus of LSTM, he completed the Diploma in Tropical Medicine and Hygiene (DTMH) after graduating from the University of Liverpool with a degree in medicine and undertaking specialist training as a physician. He began his research career at the Medical Research Council Unit in the Gambia working on the immunology of malaria. From 1985-89 he was at the Institute of Molecular Medicine in Oxford and in 1989 established with colleagues a series of research projects on the clinical epidemiology and immunology of malaria in Kilifi on the Kenyan coast.  These have subsequently developed into an international programme (the KEMRI Wellcome Trust Research Programme) involving around 800 staff working across a number of countries in East Africa of which he was director until August 2014.
Professor Marsh has always had an interest in developing and strengthening research capacity and scientific leadership in Africa and is currently supporting the development of a new platform for the acceleration of science in Africa through the African Academy of Sciences. He is chair of the WHO Malaria Policy Advisory Committee and is a member of a number of international advisory committees relating to malaria and to global health research.  He has authored or co-authored over 400 publications on different aspects of malaria and leads a team that has made numerous contributions across the field.
The award is presented in honour of Mary Kingsley (1862 – 1900), a traveler, writer and human rights advocate and personal friend of LSTM's founders Sir Alfred Jones and John Holt. Kingsley set sail for West Africa from Liverpool in 1893. She was largely self-educated and had strong views on social and political issues of the time and an interest in science. Shortly after she published Travels in West Africa (1897), which was an immediate best-seller, and West African Studies (1899). Through her experiences, she acquired a detailed knowledge of African society and politics and was regarded as an expert in government circles.  She demanded a wider understanding of African social and legal systems and how they should be reflected in colonial commerce. It lead to the formation of the Fair Commerce Party, The Congo Reform Association and the African Society. Kingsley died in South Africa on the 3rd of June 1900 from suspected typhoid, aged just 38.
As the 100th recipient of the award, Professor Marsh will join giants in the field of tropical medicine such as Sir Patrick Manson, Robert Koch and previous Dean of LSTM, Professor Brian Maegraith. His medal will be presented on 30 September when he delivers a lecture at LSTM entitled: The global picture of malaria: is the glass half full or half empty?