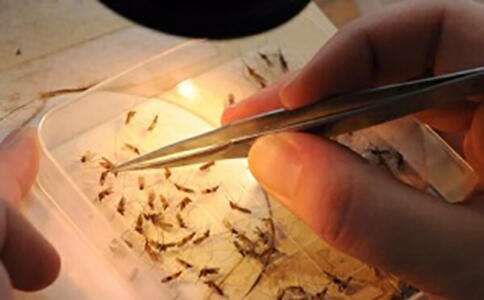 Today is World Mosquito Day, first celebrated on 20 August 1897, when British doctor Ronald Ross made the link that it was female mosquitoes that transmit malaria between humans. The discovery earned him the Nobel Prize for Medicine and he declared that the date be remembered as World Mosquito Day.
On leaving the Indian Medical Service in 1899 Ross became the first lecturer and subsequently a Professor at the Liverpool School of Tropical Medicine (LSTM) which was established in 1898, making it the first institution in world dedicated to tropical medicine. His work at LSTM led to many distinguished honours for Ross and set the foundations for scientists at LSTM and around the world to make further discoveries and improve treatments for those suffering from mosquito-borne disease.
Over a century later malaria remains a threat to global health, with the World Health Organization estimating that there are around 219 million cases of malaria worldwide every year, resulting in 630,000 deaths, mostly in children under the age of five. The fight against malaria has been blighted by the growing problem of insecticide resistance, and researchers at LSTM remain on the frontline of that battle, discovering the mechanisms by which mosquitoes become resistant and developing new effective products and tools for vector control.
In the last 12 months alone progress has been made in different areas in the field: Professor Martin Donnelly and Dr David Weetman led a team that discovered how the most important malaria vectors can respond rapidly to environmental change, including insecticidal pressure, by hybridising  without any further breakdown of species identity; Dr Mark Paine has led an international team to develop insecticide quantification kits (IQKs), which offer, quick and affordable testing for insecticides being used worldwide in indoor residual spraying (IRS). The kits, one of which is currently being tested in a field trial in Benin, will not only ensure that the insecticide is doing its job and killing mosquitos, but help prevent resistance due to under spraying; looking to future control measures, Dr Gareth Lycett's group has developed tools to knockout mosquito genes that regulate pheromone synthesis, mating behaviour and wax production.
Head of LSTM's Department of Vector Biology, Professor Hilary Ranson, said: "LSTM remains at the forefront of ground breaking research into malaria and other mosquito-borne diseases, our continued expansion, both in Liverpool and overseas ensures that we are best position to continue Ross's work in fighting what remains a devastating disease."