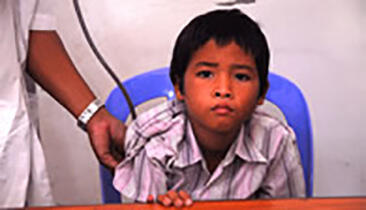 World TB Day, 24 March 2009, is a day to celebrate the lives of the women, men and children affected by TB, and to acknowledge the work of doctors, nurses, community workers and researchers who are involved in the fight against this disease. World TB Day also aims to raise public awareness that tuberculosis remains an epidemic in much of the world, killing 4,500 people every day.  LSTM is the secretariat for the Stop TB Subgroup on TB & Poverty and is actively campaigning for free TB diagnosis, an issue that is being promoted by LSTM's Dr Bertie Squire, President of the International Union Against TB & Lung Disease, at the 3rd Global STOP-TB Partners Forum, 23-25 March, in Rio De Janeiro, Brazil.
At the Forum LSTM has co-organised a debate entitled "A world free of TB needs free TB diagnosis". TB is recognised as a disease of poverty and there is a global consensus that TB treatment should be provided free to all patients. The principle of free diagnosis of TB is also widely accepted, but not explicitly stated as a component of the STOP-TB strategy nor practically available in all countries. There are a number of challenges to building and implementing a global consensus for the principle of free TB diagnosis. These challenges are explored through this debate.
The date of 24 March commemorates the day in 1882 when Dr Robert Koch astounded the scientific community by announcing that he had discovered the cause of tuberculosis, the TB bacillus. At the time of Koch's announcement in Berlin, TB was raging through Europe and the Americas, causing the death of one out of every seven people. Koch's discovery opened the way toward diagnosing and curing tuberculosis.
LSTM is working with partners to fight TB through the following projects:
The Centre for Research on Equity and Systems for TB and HIV/AIDS (CRESTHA)
The National Institute for Health Research funded Liverpool Biomedical Research Centre.
Pulmonary responses to Mycobacteria tuberculosis.
Population pharmacokinetic-pharmacopdynamic modelling to optimise treatments for HIV, TB and malaria.
Epidemiology of TB in children in Yemen.
Developing new diagnostic approaches for active and latent TB infections.
Access to TB Diagnosis and Care for New Arrivals in Merseyside.
And many more initiatives that are shaping the diagnosis and treatment of TB worldwide. 
Today TB is a preventable and curable disease that kills several million people each year.
If you would like to support World TB Day, you can download resources at the Stop TB Partnership website:http://www.stoptb.org/events/world_tb_day/2009/resources.asp
 -ends -
For further information contact
Alan Hughes, Communications Manager
Office: +44 151 705 3308
Email: a.p.hughes@liv.ac.uk