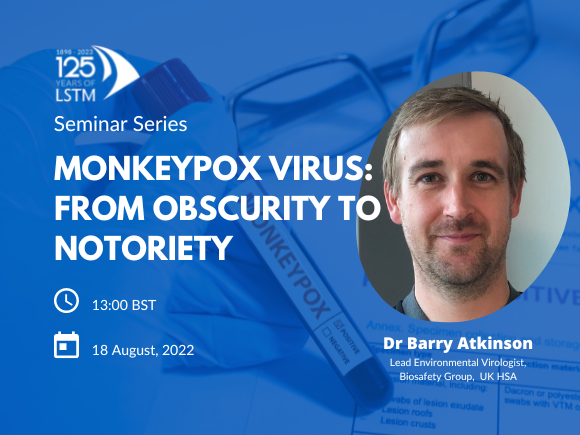 LSTM welcomed Dr Barry Atkinson on Thursday 18th August. Dr Atkinson delivered a talk looking at the history of the disease, from its first discovery, through to the current outbreak, which is seeing huge media headlines across the UK, Europe and in North America. Outlining treatment options and diagnostic issues, he answered questions from an in person and online audience about his own role in UK biosafety and the dangers of ignoring outbreaks in the Global South.
When
Thursday 18th August, 2022. 13:00 (BST)
Where: 
Nuffield Lecture Theatre & Online
Speaker
Barry Atkinson is a Lead Environmental Virologist at the UK Health Security Agency (UKHSA). Barry has spent nearly two decades researching high-consequence viral diseases including developing frontline diagnostic assays for multiple haemorrhagic fever viruses and arboviruses. His work at UKHSA has also involved outbreak response efforts for incidents such as the 2009 influenza virus pandemic, the 2013 West African Ebola virus outbreak, investigating imported cases of high-consequence pathogens such as monkeypox virus, and multiple outbreak investigations following cases of Anthrax in the UK. Barry's current work focusses on understanding the transmission potential and survivability of SARS-CoV-2 in the environment and investigating workplace outbreaks of COVID-19.
Admission
Free and open to all. No registration required.
Upcoming events
A valedictory by Professor Paul Garner: Truth not Triumph: backstage at Cochrane Infectious Diseases
Don't miss an event...
Subscribe to our monthly newsletter and get all the latest news, videos and events from LSTM. 
Watch broadcast