Dr Paine graduated in Genetics from Wits University, Johannesburg in 1983. In 1990 he obtained his PhD for research on the molecular biology of viper venoms from the Liverpool School of Tropical Medicine. In 1993 he moved to the University of Dundee Biomedical Research Centre to work on molecular aspects of human drug metabolising enzymes.  In 2006 he swopped man for mosquitoes and returned to the Liverpool School of Tropical Medicine to work on the related chemical detoxification mechanisms of insects, and the problem of insecticide resistance.
Teaching
Aspects of vector biology, insecticide resistance and vector control for undergraduate and postgraduate modules.
Research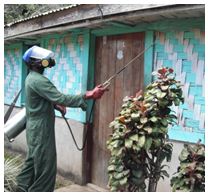 Enzyme Characterisation Group (ECG)
Research in the ECG  is aimed principally at understanding the molecular mechanisms of insecticide resistance and to translate this knowledge into practical solutions for tropical diseases.  Our basic aim is to identify the proteins and the processes leading to resistance. This involves the use of a broad range of biochemical and molecular techniques and collaborations with transgenic, structural and computational modeling groups.  Over the past five years, through IVCC funding (www.IVCC.com) we have made substantial progress in identifying the major P450's associated with pyrethroid resistance in Anopheline and Culicine vectors of malaria and dengue (reviewed in David et al, 2013 http://rstb.royalsocietypublishing.org/content/368/1612.toc). Allied to this are studies on heme oxygenase, which is involved in heme detoxification, thus crucial to the survival of blood-sucking insects.  Funded by the Leverhulme Trust, we are asking the question, how do mosquitoes survive a blood meal? – see August 2012 Leverhulme Newsletter http://www.leverhulme.ac.uk/news/newsletter.cfm.  We also have a major interest in the development of novel biosensors for the detection and monitoring of insecticides. We recently secured funding from the Wellcome Trust Affordable Healthcare in India Scheme to develop simple visual assays (quantification tests) for the rapid and reliable monitoring of DDT, carbamate and organophosphates. These will be used in Visceral Leishmaniasis and malaria control operations in India and worldwide . (http://www.wellcome.ac.uk/Funding/Technology-transfer/Funded-projects/India/index.htm).  Finally, we work with diverse academic, industry and government organisations and are open to new collaborations and contract research opportunities.
Students
Selcan Alptekin, Investigating the interaction of the methylene dioxyphenyl moiety with resistance associated  P450s  (Syngenta/HGCA)  (1/10/2010)

Cherry Dyke, Mechanisms of insecticide resistance in  

An. stephensi 

(NIH-Fogarty International Center) (1/05/2012)

Mark Mallot, A genomic approach to understanding insecticide resistance in diamondback moth (

Plutella xylostella

) (BBSRC/Syngenta) (01/10/12)

Christopher Spencer, Molecular characterisation of An. gambiae heme oxygenase (Leverhulme) (01/10/12)

Glauber Pacelli, Biochemical, structural and physiological characterization of 

Aedes aegypti 

heme oxygenase: a novel target for dengue control (CNPq)  (01/04/13)
Staff
Dr Marlize Coleman, Project Manager, Insecticide Quantification Kits (IQK) for Vector Control Programmes in India'

Dr Hanafy Ismail,  Post Doctoral Research Assistant, IQK development

Dr Cristina  Yunta-Yanes, Post Doctoral Research Asistant,  Structure/ function of P450s associated with insecticide resistance

Ms Kay Hemmings, Technician/ ECG lab manager,  Enzyme characterisation

Mr Christopher Williams, Technician, Immunodiagnostics