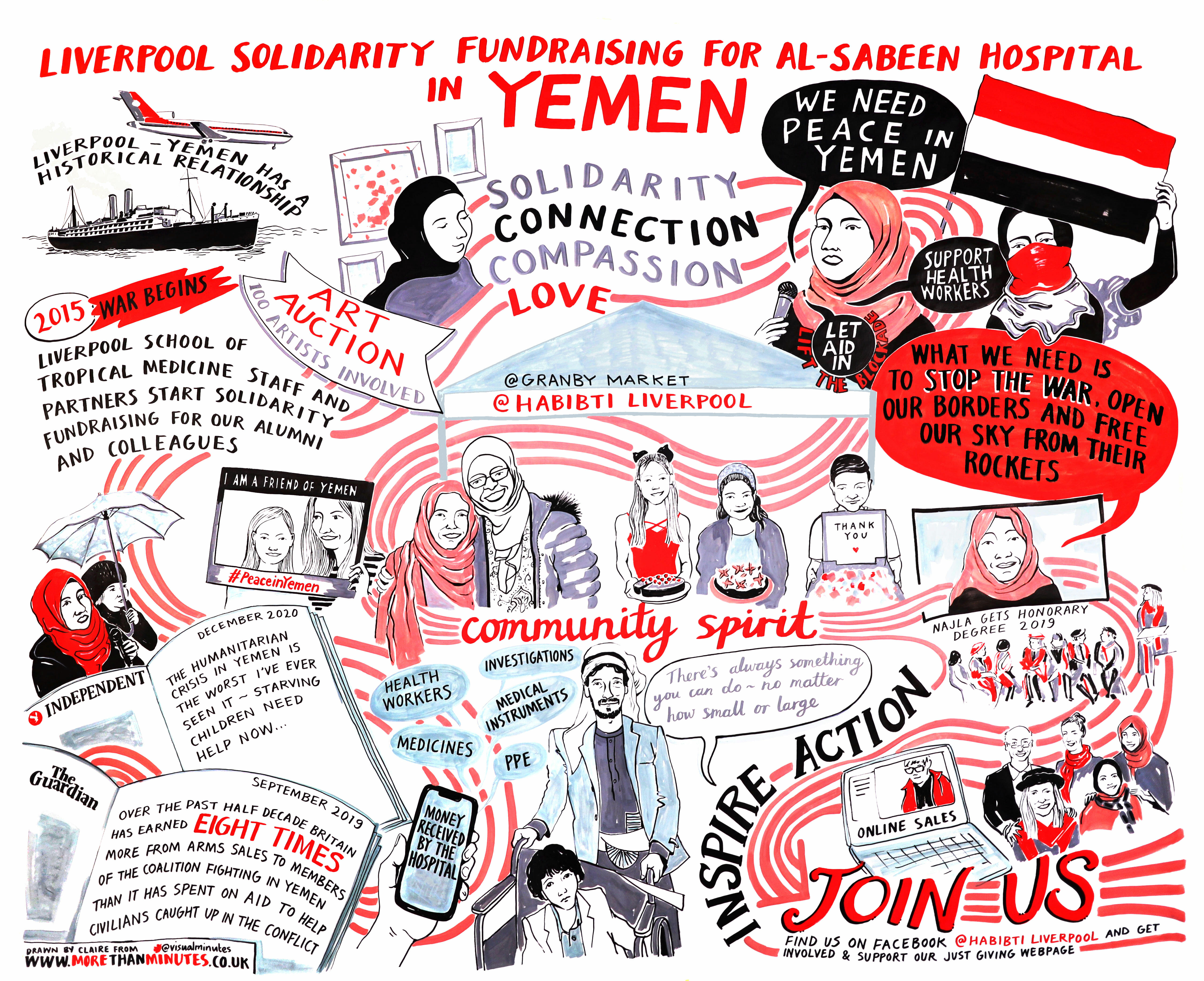 January 25th 2021 is the first global campaign, a call to action for "The World to Say No To The War On Yemen". Nearly six years of war have devastated the country, which the UN has declared the World's largest humanitarian crisis. The impact on health and well-being on all Yemenis is desperate and the youngest suffer the most. Al-Sabeen babies and children's hospital in Sana'a provides free health care and is a literal lifeline to families in the area experiencing severe and acute malnutrition,  cholera, diphtheria, war injuries and Covid-19.
Professor Najla Al-Sonboli, LSTM alumna, partner and honorary degree awardee (2019) is a lead paediatrician at the Al-Sabeen hospital. And through a solidarity campaign to support health workers and families at the hospital, a Liverpool-Sana'a connection has gathered momentum. LSTM staff have been awareness raising and sending money soon after the war began in 2015. This started with a discussion about the impacts of war on health in Yemen at a TB REACH event at the international Union Against TB and Lung Disease conference in Liverpool in 2016 and people donated in solidarity. Since then staff have supported generously on successive just giving webpages and through Christmas School Staff Forum, international women's day event, raffles and cake sales. They have also raised money through events in their home villages, birthday appeals and sponsored jumping in the Liverpool docks and some have now set up direct monthly donations (thanks!).
The solidarity effort in the Liverpool community has been incredible. Habibti (means beloved one in Arabic) and habibti Liverpool was born. Habibti Liverpool brings together a diverse group of women who run a monthly market on Granby Street selling pre-loved goods with all monies raised going direct to support health workers and children at the hospital. Lively interactions at the stall and regular customers provided an opportunity to also raise awareness about the situation in Yemen. When the pandemic hit the stall went online with models from the community. You can learn more and join in with activities by following Habibti Liverpool on facebook and instagram. People have also made Al-Sabeen tote bags, key rings (available at Yemeni scouse female owned businesses in L8 – The Coffee Lodge and Zippy' s cards); cakes; pies; bath melts, salts, candles (@sheablissliverpool); beautiful stuffed dates (@bakes.dates); sweet treats for Ramadan; angel drawings; postcards; glittery peace signs and waxed food wraps. Yemeni owned Toro's Steak house donated their entire takings for one night. People have had house and cake sales; run sponsored half marathons and organised Burn night fundraisers.  Liverpool children have been involved, asking for monies for Yemen rather than presents at birthday parties, making and selling mugs for Ramadan, organising events at Windsor primary school, baking cakes and organising (sponsored) hair shavings. People have donated pre-loved clothes for babies, children and adults and new clothes, nappies and goods (in total 61 large stuffed postal bags) which went by sea from Liverpool to Aden and overland to Sana'a and arriving at Al-Sabeen last week to much joy (see the photos on habibti Liverpool). Liverpool artists have also taken action: over 100 artists donated their works, which were then auctioned off by auctioneers at an event at the Static Art Gallery.
Meanwhile Liverpool Riverside MP, Kim Johnson, in her recent January 2021 speech in debate on global Britain highlighted this action (including the work of LSTM ) and how proud she is of how her community has pulled together here and went on to say "In Yemen, 80% of the population—more than 24 million people—need some form of humanitarian assistance and protection. We have a moral responsibility to step up and do everything in our power to help and support these people".
This solidarity connection and engagement has been illustrated by Claire Stringer from Visual Minutes which was shown at the online Liverpool-Yemen Vigil in December 2020. What do you see? How can you get involved? Learn more here where you can also read about how the solidarity monies are spent and see videos from Liverpool based humanitarian, Adam Kelwick's, recent trip to Al-Sabeen.  Join us and be part of this solidarity story.