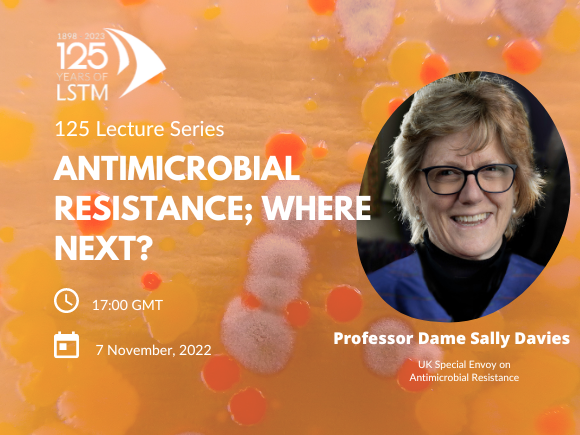 Liverpool School of Tropical Medicine (LSTM) celebrates its 125th year anniversary in 2023. As part of a schedule of events for the occasion, we are hosting a series of lectures featuring prominent UK scientists and thinkers. We are excited to announce that Professor Dame Sally Davies, UK Special Envoy on Antimicrobial Resistance, is delivering a lecture entitled: 'Antimicrobial Resistance; where next?'
Description:
As the 40th Master of Trinity College, Cambridge University, and Chief Medical Officer for England and Senior Medical Advisor to the UK Government, 2011-2019, Dame Sally brings rigour and insight to this topic. The lecture will explore the following concepts and their role, with regards to the fact that AMR numbers are higher than previously though:
Interconnectedness between human, animal and environmental considerations and how these contribute to AMR
What can be done to improve our knowledge within the 'One Health' areas, including genomic surveillance 
The role of funding and market landscape for new antimicrobials. Is it inescapable that we need new antibiotics? How can we navigate our way through funding and market bottlenecks to success?
Dame Sally's own instrumental involvement in the UK's response to AMR funding and challenges
Dame Sally's lecture will last approximately 40min. A 15 min audience Q&A session will take place, followed by a networking reception (in-person only).
The event will also be live streamed and recorded.
Admission: 
Book your tickets here
Upcoming events:
To keep up to date with LSTM's upcoming programme of events, check our 125th events page over the coming months: visit www.lstmed.ac.uk/125