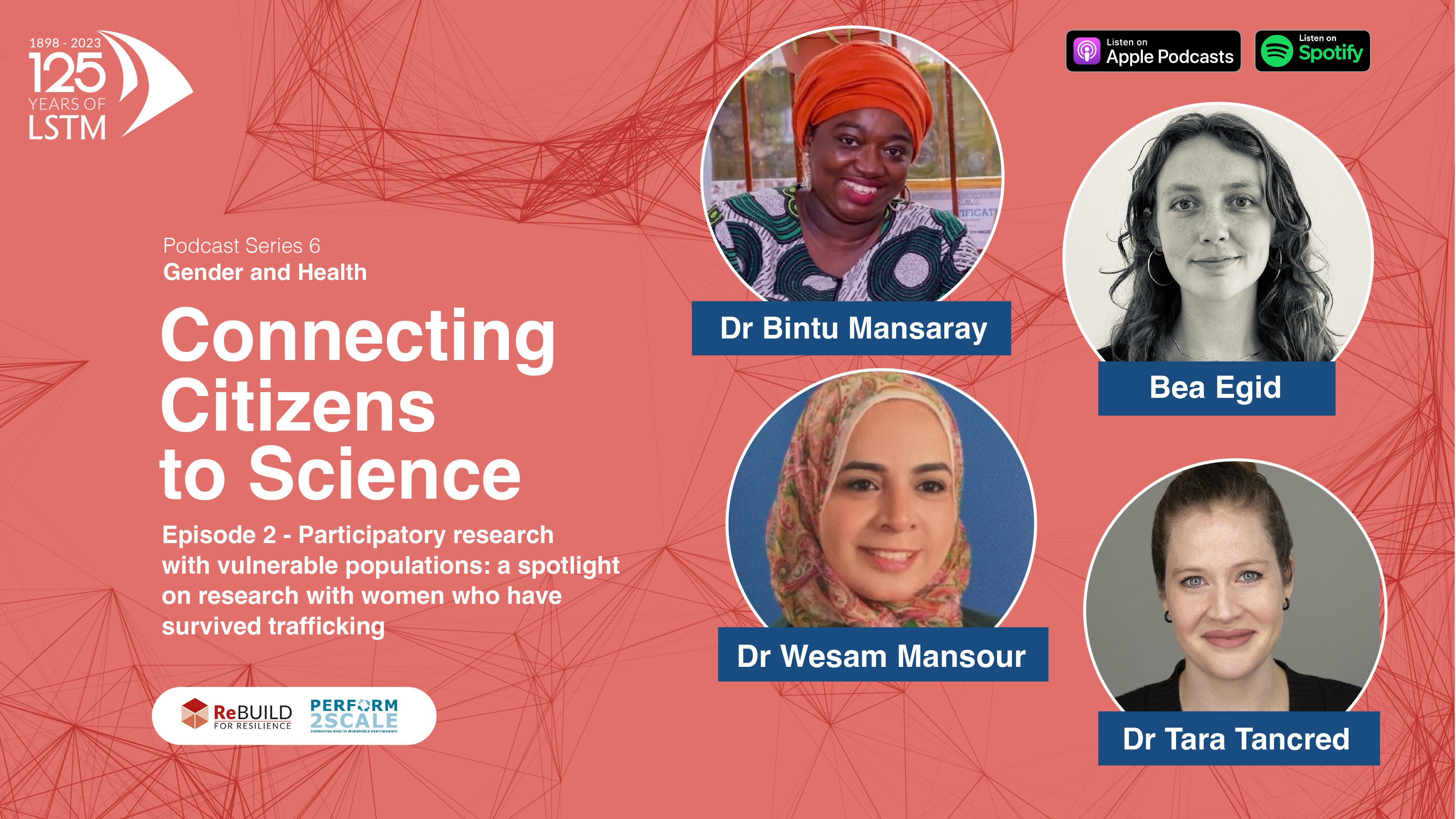 Featuring guest speakers Dr Bintu Mansaray, Lead Research Consultant at the Institute of Gender and Children's Health Research in Sierra Leone, and Dr Tara Tancred, a senior research associate at the Liverpool School of Tropical Medicine, in today's episode we hear about doing participatory research with highly vulnerable populations, focusing on women who have survived trafficking and the importance of centering their voices in research processes. 
Listen to find out about: 
How a sense of community and solidarity between survivors can emerge from the participatory research process 
Engaging with participants to understand safeguarding concerns from their perspective and to collaboratively decide what can be done to make them feel safe 
The power of participatory methods such as PhotoVoice and community drama for enabling survivors to communicate and share their experiences of trafficking and reintegration 
Dr Bintu Mansaray Lead Research Consultant, Institute of Gender and Children's Health Research
Bintu Mansaray is a medical doctor, and a paediatrics public health specialist. She currently works as a social scientist for the Institute of Gender and Children's Health Research in Sierra Leone whilst completing her PhD at the University of Bristol on the Multisectoral responses to sexual abuse in Africa. Bintu's research is focused on children's health and well-being and sex trafficking in Africa. She has published three children's public health books on COVID-19, Malaria and Type 1 Diabetes to help Africa's children learn about these illnesses affecting them. Bintu is particularly interested in building bilateral and mutually beneficial relationships with organisations and research institutions to end child slavery and sex trafficking.  
Dr Tara Tancred  Senior Research Associate, LSTM
Tara Tancred is a social scientist working for the Centre for Capacity Research at the LSTM. Much of her research centres on improving the quality and patient-centredness of sexual and reproductive healthcare in low-resource settings. To this end, she has extensive experience supporting different participatory research approaches, driving co-researcher-led and contextually appropriate changes to support implementation of evidence-based practice. She has a particular interest in supporting capacity strengthening for implementation research, especially amongst co-researchers.