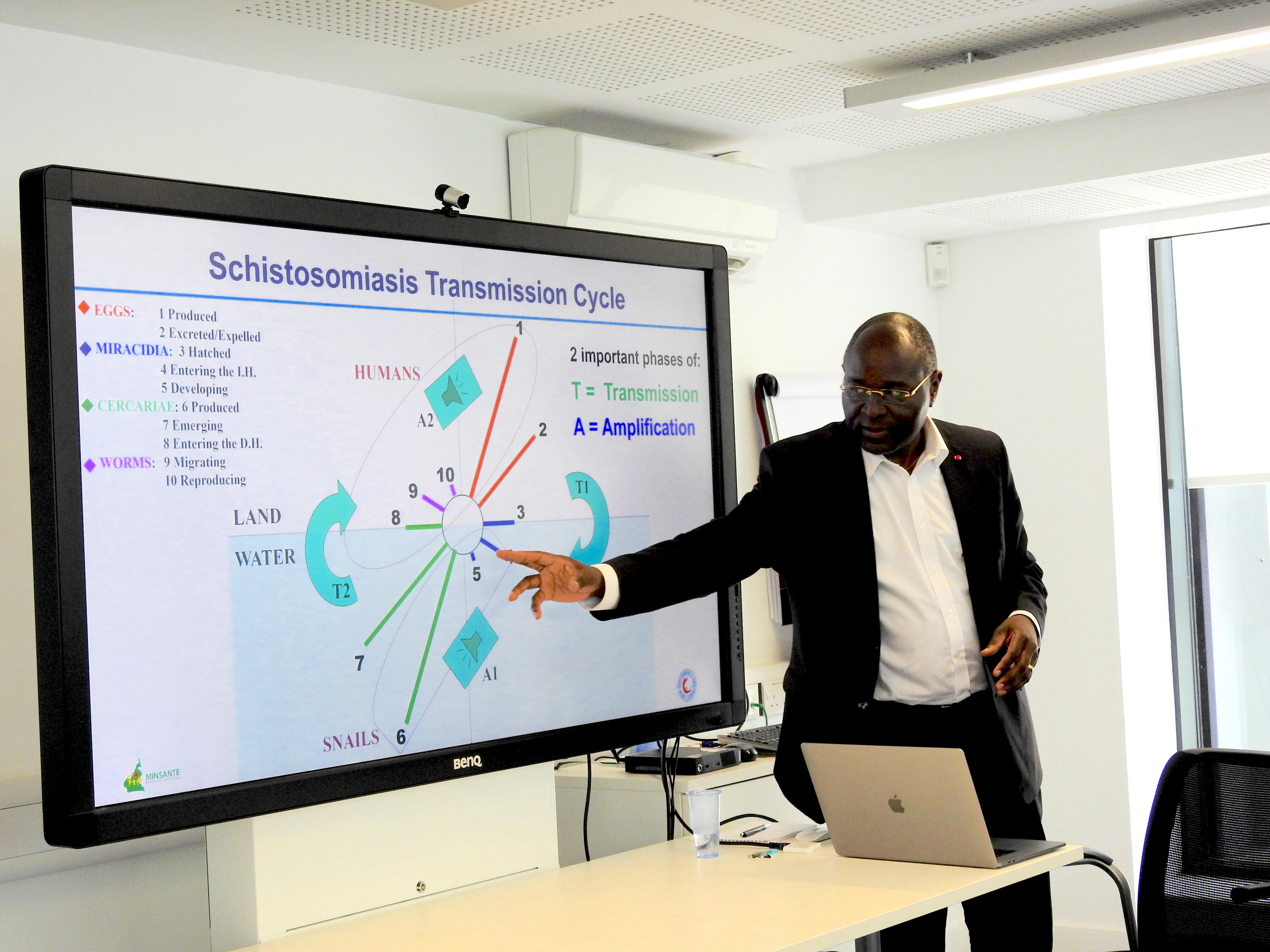 Organised by LSTM's Professor Russell Stothard, along with Dr Bonnie Webster from the Natural History Museum, the symposium is entitled: The multidisciplinary of parasitology: host-parasite evolution and control in an ever changing world, and will explore and discuss recent progress towards understanding host-parasite relationships, with emphasis on vectors and intermediate hosts of human diseases. One of the invited speakers is LSTM's NTD Ambassador Professor Louis-Albert Tchuem Tchuenté who shared some elements of his talk with colleagues from LSTM based COUNTDOWN Consortium before leaving with the team for London.
Professor Tchuem Tchuenté is the Cameroon country lead for COUNTDOWN as well as the Director of the Research Centre for Schistosomiasis & Parasitology and Coordinator of the National Programme for the Control of Schistosomiasis and Intestinal Helminthiasis in Cameroon. He received the honorary appointment as LSTM's NTD Ambassador last year and presented some of his thoughts to colleagues about the importance of multidisciplinary approach in moving from control to elimination programmes for NTDs. Using examples from schistosomiasis control programmes Professor Tchuem Tchuenté stressed that treatment alone will not guard against reinfection but that an approach involving health education, along with clean water, sanitation and environmental control of the vector at various points in the transmission cycle is needed for elimination.
He joins a number of other speakers in London, as well as those presenting posters and abstracts for the all-day meeting,  which will be opened by Professor Sir Roy Anderson and closed by LSTM's Professor Mark Taylor, current President of the BSP.