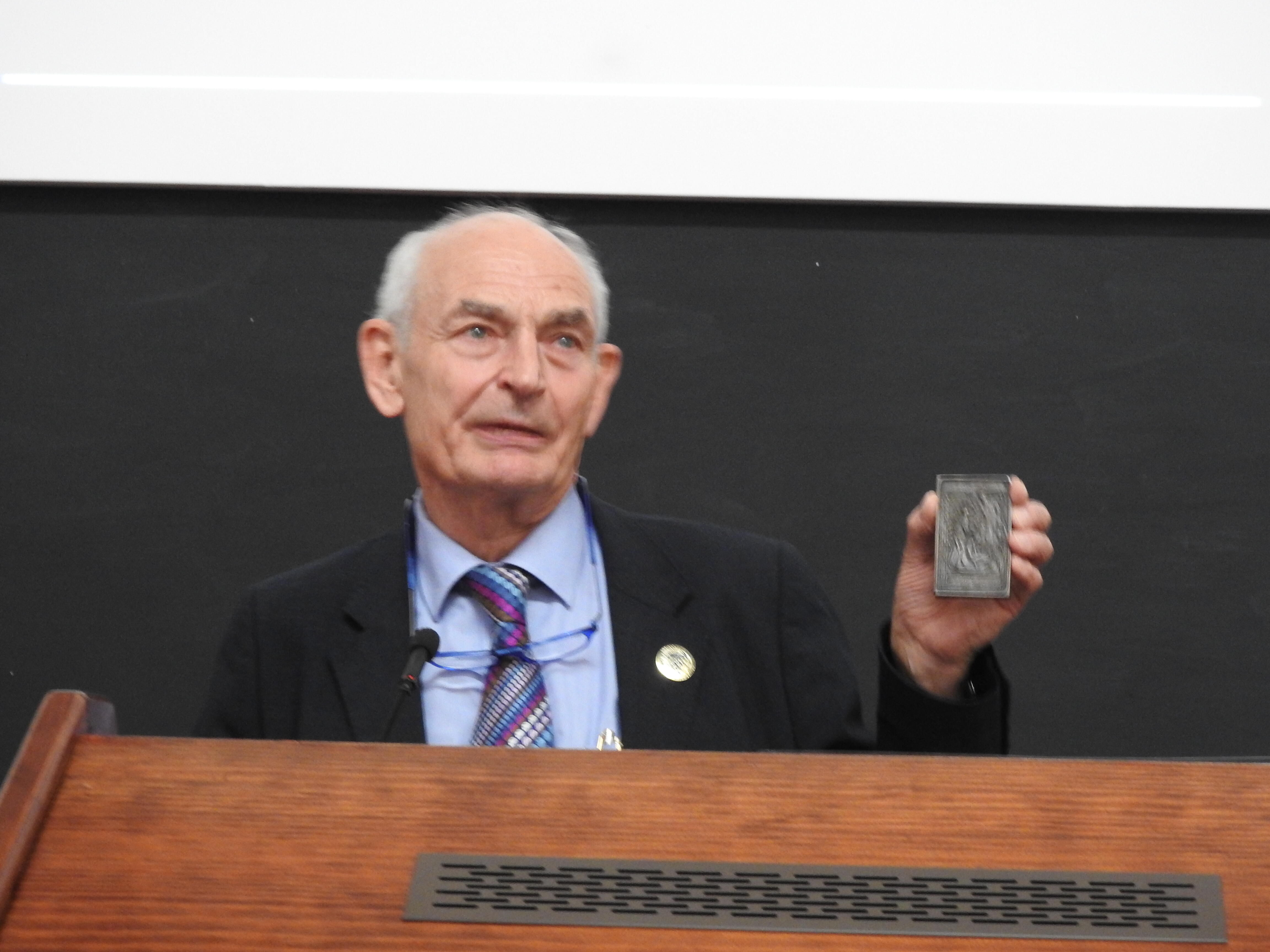 LSTM has awarded Emeritus Professor and senior Professorial Fellow David Molyneux its highest honour, the Mary Kingsley Medal, in recognition of his outstanding contribution to the field of tropical medicine.
LSTM's Director Professor Janet Hemingway CBE FRS said: "It has been fantastic to work with David, whose contribution, particularly in the field of neglected tropical diseases, cannot be overstated. It is LSTM's greatest honour to award him the Mary Kingsley Medal. The award represents LSTM's ethos of equity and partnership in relation to improving health across the world, all of which is demonstrated by David's tireless advocacy on behalf of the billion or more people globally at risk of contracting an NTD. He has been inspiration to so many and this award is thoroughly deserved."
On receiving the Mary Kingsley Medal, Professor Molyneux said: "This is overwhelming - I have to say thank you to Janet and to LSTM whose contribution has been extraordinary. Receiving the Mary Kingsley Medal is beyond expectation - with the number of people receiving it so small but their distinction is self evident. It is something that I will treasure for the rest of my life."
The medal was awarded at the end of a day which honoured Professor Molyneux's half-century working in the field of tropical medicine (1968-2018) as he steps down from his role as LSTM's lead on NTDs. The event, hosted at the Liverpool Medical Institution, was opened by LSTM's Professor Mark Taylor, who welcomed what he described as "a who's who of tropical medicine and global health." People had come from far and wide to pay tribute to Professor Molyneux, many giving talks about his impact in the field of tropical medicine, with personal accounts from people such as Professor Peter Hotez, Dean of National School of Tropical Medicine of the Baylor College of Medicine, USA; Professor Alan Fenwick, founder of the Schistosomiasis Control Initiative; Andy Wright, GSK's VP of Global Health Programmes and Dr Frank Richards from the Carter Center.
David first stepped into LSTM in 1968 as a Lecturer before departing for different and distant positions, later returning as LSTM Director between 1991 and 2000. Following this he established in LSTM the Lymphatic Filariasis Support Centre (now known as LSTM's Centre for Neglected Tropical Diseases), funded by the UK Government's Department for International Development as their first foray into funding a public – private partnership. He has been instrumental in the promotion of the treatment of NTDs and was one of the field's pioneers who coined the term 'Neglected Tropical Diseases' given their link to poverty. His continued advocacy contributed to the London Declaration of 2012, which has seen billions of doses of drugs donated by the pharmaceutical giants to alleviate and eliminate diseases such as lymphatic filariasis, onchocerciasis and Guinea worm.   
Over the years Professor Molyneux has been a member of numerous advisory and expert panels including for WHO, the Expert Panel on Parasitic Diseases and the Capacity Strengthening Working Group of the Strategic and Technical Advisory Group, for the Carter Center the International Task Force for Disease Eradication. He has published over 350 academic papers and received recognition in the form of medals and awards from the British Society of Parasitology and the Royal Society of Tropical Medicine & Hygiene, including their highest award, the Manson Medal.
Despite his retirement from LSTM, Professor Molyneux will remain active as editor-in-chief for International Health, a journal from the Royal Society of Tropical Medicine & Hygiene.