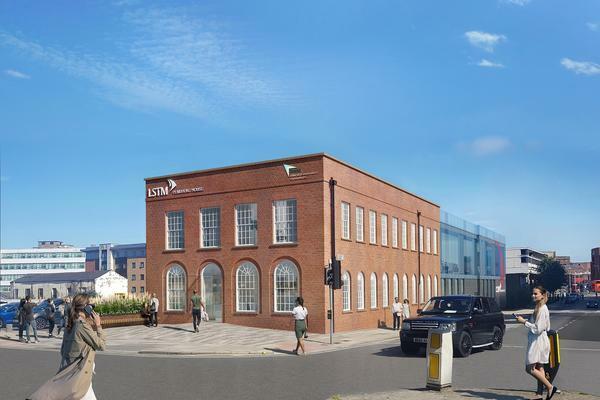 LSTM has received a grant of £2M from the Office for Students (OfS) for the renovation of Pembroke House at its Liverpool campus.
The facility, a former NHS records office and located in the city's Knowledge Quarter, will act as a collaborative centre led by LSTM in partnership with the Infection Innovation Consortium (iiCON) where education and the science base will be connected to the local and regional economy.  
The funding, along with philanthropic and regional strategic funding, will provide a digital facility with flexible teaching spaces designed to nurture and equip a new generation of health leaders, innovators and entrepreneurs providing a hub for the transfer of knowledge and to upskill the careers of longer-term professionals.
 LSTM will provide relevant technical higher education qualification pathways for the health and life science sector (HLS). Pembroke House is critical to support this expanded delivery of professional higher education qualifications, tailored to the needs of a broad range of healthcare and life science students in the UK and overseas.
The Director of LSTM, Professor David Lalloo, said: "Having education, academic activity and industry come together under one roof will drive innovation. We are delighted with this grant enabling us to create this digital learning environment which will facilitate interactions with our overseas partners and industry for the benefit of our students and global health outcomes."
Latest technology and infrastructure will support world-class training, knowledge sharing and collaboration, fast-tracking translational science and innovative interventions for human health. Pembroke House aims to be a global first-choice training centre for health and life science industry partners - with a unique offering, unrivalled in the UK. 
One hundred providers have received funding from OfS through a competitive bidding process to support investment in new buildings, facilities and equipment for universities and colleges across England.
Pembroke house is a cornerstone investment as part of LSTM's 125th Anniversary celebrations in 2023, which will include a programme of stakeholder events and a large-scale fundraising campaign. The multi-million-pound centre will develop the next generation of global health leaders, accelerate the development of transformative technologies, and future-proof the region as a world-leading centre for infection innovation, learning, and research.
To find out more visit LSTM's fundraising pages.