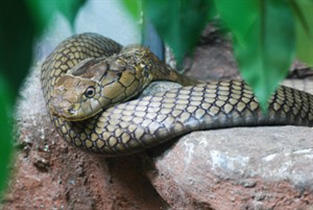 Researchers from LSTM, along with a team of international biologists who have recently sequenced the genome of the king cobra, say that their work reveals dynamic evolution and adaptation in the snake venom system, which seemingly occurs in response to an evolutionary arms race between venomous snakes and their prey.
A paper co-lead by Dr Nicholas Casewell, a NERC research Fellow at LSTM, and 34 co-authors from six countries, including the Director of the Alistair Reid Venom Unit at LSTM, Dr Robert Harrison, has been published in the Proceedings of the National Academy of Sciences (PNAS). Members of this team also analysed the genome of the Burmese python (Python molurus bivittatus) and used it for comparison with the king cobra (Ophiophagus Hannah). These papers represent the first complete and annotated snake genomes.
Snake venoms are complex protein mixtures encoded by several gene families and these proteins function synergistically to cause rapid paralysis or death in prey. The study provides an insight into the biology of the venom in snakes, and allows the understanding of the evolution of venom genes at the genome structural level. Armed with the both the king cobra and Burmese python genome the team was able to show that, despite previous hypotheses that venom genes evolve "early" in the lineage leading to snakes, venom gene families do not duplicate early, in fact the study shows that the rapid and extensive expansion of functionally important venom toxin families is restricted to the venomous "advanced" snake lineage. The diversification of these toxins correlates directly with their functional importance in prey capture, for example the most pathogenic king cobra toxin family have undergone massive expansion, while, in contrast, venom proteins with less important functions do not participate in the evolutionary arms race occurring between snakes and their prey.
Dr Nicholas Casewell said: "These are the first snake genomes to be sequenced and fully annotated and our results in relation to the king cobra provide a unique view of the origin and evolution of snake venom, including revealing multiple genome-level adaptive responses to natural selection in this complex biological weapon system. These adaptations include the massive and rapid expansion of gene families that produce venom toxins, providing the snake with a highly toxic protein mixture required to overcome a variety of different prey and also circumvent any resistance to venom that may have developed in such prey. Our study provides unique genome-wide perspectives on the adaptive evolution of venom systems as well as protein evolution in general.  As such it contributes an essential foundation for understanding and comparing evolutionary genomic processes in venomous organisms."
The work carried out by Dr Casewell and his co-authors was used in the second paper outlining the analysis of the genome of the Burmese python, also published in the same edition of PNAS.
You can read the article here.