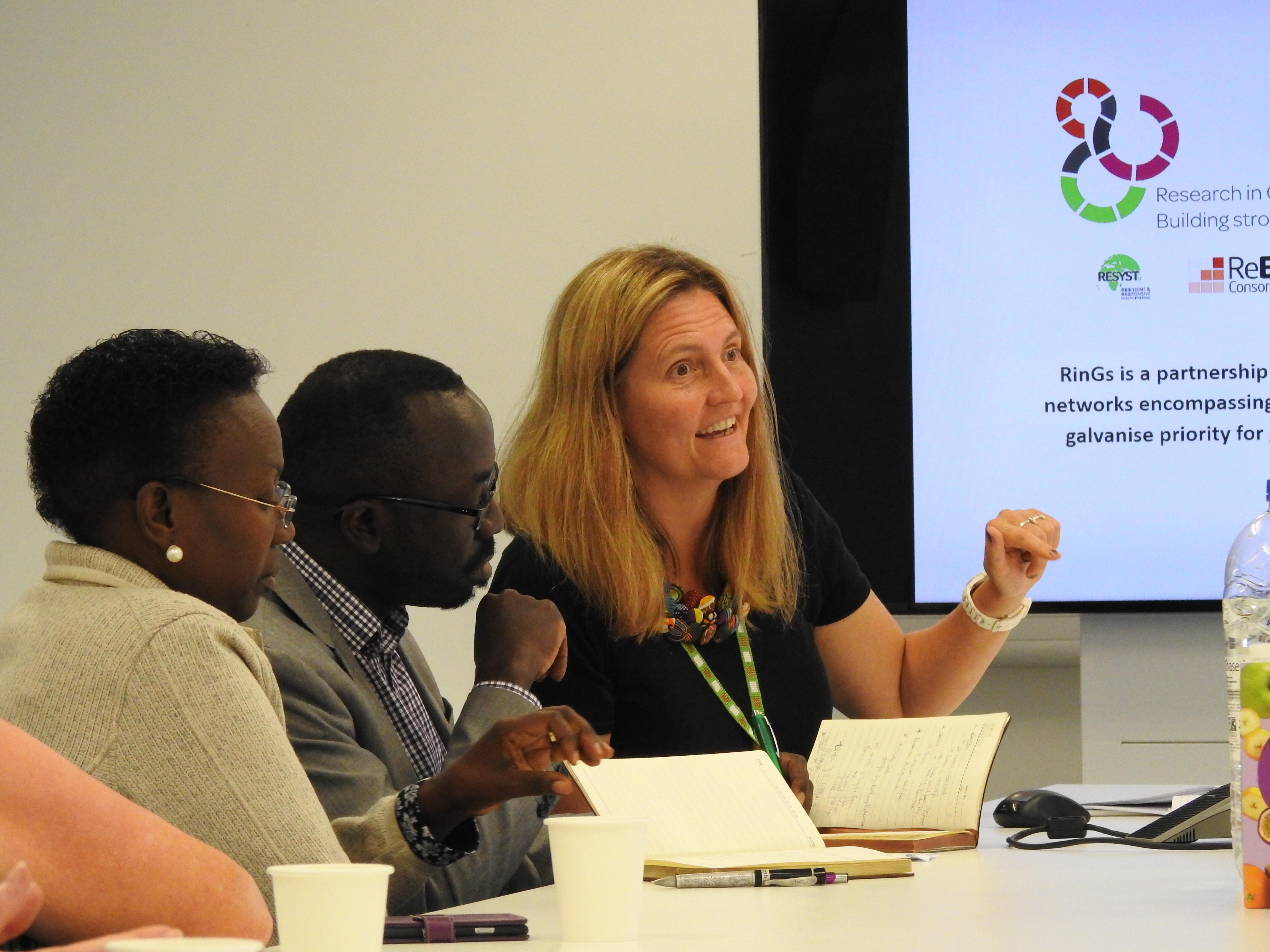 LSTM has some strong research links with Ugandan partners, and three programmes were able to present to Dr Acheng, and to discuss the policy and practice implications of their work. Dr Acheng was also introduced to LSTM's Director Professor Janet Hemingway, Professor Shabbar Jaffar, Head of the Department of International Public Health, and Professor Martin Donnelly.
For the ReBUILD consortium, Tim Martineau gave an overview of the programme's work on health systems after conflict and crisis, showing how work done by ReBUILD's Ugandan partners at the Makerere University School of Public Health (MUSPH) had provided important evidence for actors looking at conflict or crisis-affected settings elsewhere in the world, as well as in Uganda. In responding, Dr Acheng particularly picked up on the work ReBUILD had done to map and understand the links between emergency and humanitarian actors and implications for resource flows. The Ministry of Health was now doing an exercise to map NGO providers of health services throughout Uganda, the resources these have brought into the country and what is done with them.
Professor Sally Theobald outlined the work of RinGs a cross-RPC programme on gender and ethics in health systems research. This included collaborative work between RinGs and ReBUILD which has produced the Building Back Better online resource on gender in post-conflict health systems strengthening. Dr Acheng strongly agreed with the importance of considerations of gender, highlighting the importance in linking communities with the health system, whilst acknowledging the MoH still had to do better in focusing on gender. She gave an example of the challenge of getting men screened for HIV and onto appropriate treatment, compared with women.
The PERFORM2Scale programme is working with MUSPH along with other partners in Malawi and Ghana, and Dr Jo Raven presented on how the programme is scaling up an approach to district health management strengthening, work the original PERFORM programme had done in Uganda, and how the new PERFORM2Scale programme would be working with a number of district health teams to scale up this approach. Dr Acheng acknowledged that after decentralisation, there still remained a challenge to deliver supportive supervision to district teams, and that remuneration was not consistent with skills, level and performance.
This was a valuable opportunity to get reflections from a top policy maker on the way research evidence can help inform health systems policy and practice, and on some of LSTM's own work in this field. And it was particularly a pleasure to link this visit to a celebration of success, not only for Dr Ocero, but also for another ReBUILD-supported colleague, Wilson Mashange, who graduated from LSTM as a Master of Public Health – International Public Health.