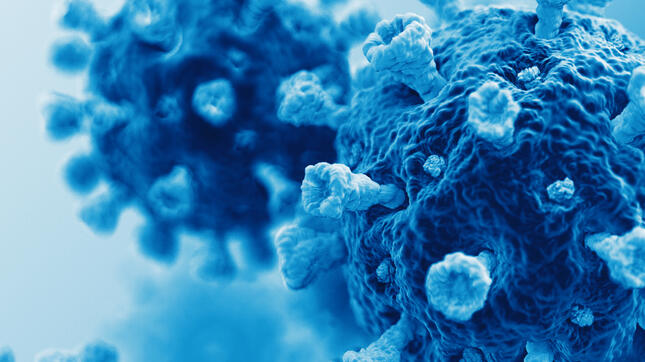 LSTM's Dr Adam Roberts is a contributing author to an article published in the journal The Lancet Microbe calling for a dedicated antibiotic trials infrastructure in order to protect promising new drugs from commercial failure – learning the lessons from the COVID-19 pandemic.
Dr Roberts explained: "The coronavirus pandemic has been, and still is, a truly awful thing. It has however, shown us what can be achieved through collaboration in terms of bringing new medicines rapidly from bench to bedside and we would do well to build on this collaborative working model, underpinned by an internationally networked clinical trials infrastructure, to address AMR"
In the article, the group of European researchers call for an opportunity to turn the existing subsidy model on its head. Rather than funding individual companies with drugs that may or may not make it through the "valley of death" of clinical trials, they propose focusing public investment on the bridge crossing this valley. A network of public institutes capable of carrying out trials and producing limited amounts of experimental compounds for these trials, could transform the broken pipeline.
Antimicrobial resistance (AMR) poses a real risk to global health and food production in the future, with the antibiotics designed to underpin modern medicine unable to control some bacterial infections. With people all over the world dying from previously treatable infections. The fact that antibiotics yield little profit from the expensive process to research and produce them, mean that there are few new drugs in the pipeline.
Even government and commercial subsidies, which equates to more than $1.5 billion have only yielded limited results, with only five large companies are still researching antibiotics and smaller companies with licensed novel drugs having gone bust despite public support and subsidies.
Calling for a dedicated antibiotic trials infrastructure which would add value to early-stage antibiotic R&D at public research institutes, enable commercial developers to offload promising but non-profitable compounds, and help target R&D efforts on the most pressing health threats rather than the most profitable markets, the authors feel that encouraging both public and private sectors to streamline efforts and reduce risks could provide sustainable access to antibiotic in the future.
Dr Roberts concluded: "The public trials infrastructure that enabled COVID breakthroughs should serve as a model for other major health crises – like AMR."