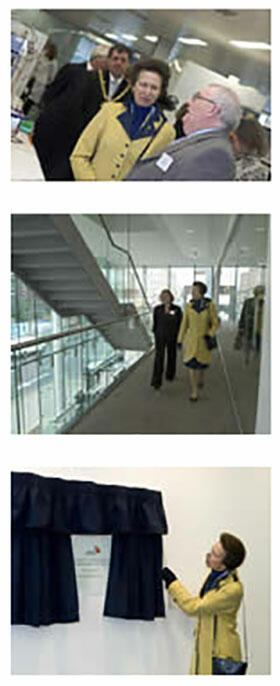 HRH The Princess Royal today officially opened the new £23 million Centre for Tropical and Infectious Diseases (CTID) at the Liverpool School of Tropical Medicine.
The state of the art facility will help to save thousands of lives around the world by generating and trialling drugs, vaccines and insecticides that will directly improve health. LSTM's Director, Professor Janet Hemingway, said: "In our 110 year history, we have made significant contributions to health from our existing facilities. This fantastic new building gives us the potential to make an even greater impact on the diseases affecting the world's poorest people.
"It brings together, under one roof for the first time, a multidisciplinary team of scientists capable of taking a scientific idea from 'molecule to man' and is at the very heart of our long term plans to generate products to directly improve health in the developing world.
"It is a very fitting honour that the new building was officially opened by our Patron HRH The Princess Royal."
The Northwest Regional Development Agency (NWDA) and the European Objective One Programme each gave £9 million towards the project. There has also been substantial support from Liverpool City Council and the Wolfson Foundation among others.
Steven Broomhead, Chief Executive of the NWDA, said: "England's Northwest is one of the UK's top three clusters for the biomedical sector, and LSTM is one of the world's leading institutions dedicated to developing treatments for infectious and tropical diseases. The new Centre cements the Northwest's growing reputation as an international leader in medical and scientific research and development."
Commenting on the new building, Chris Musson, Head of European Programmes at Government Office for the North West, said: "The CTID will enhance LSTM's position as an international centre of excellence in tropical medicine and support the creation of hundreds of highly skilled jobs for local people. It will also help to improve the health of countless people around the globe and as such, there can surely be no better legacy from the Objective One Programme." 
-ends-
For further information, please contact:
Alan Hughes, Communications Manager
Office: +44 (0)151 705 3308
Mobile: +44 (0)7759 243969
Notes to Editors
LSTM is an international centre of excellence in tropical medicine and international health with a research order book totalling more than £130 million and an annual intake of some 400 students from more than 70 countries.
The new Centre for Tropical and Infectious Diseases (CTID) will greatly enhance our capability to develop drugs and vaccines for tropical diseases and innovative new forms of insect control, putting the region at the forefront of research into current and emerging infectious diseases.
The Centre provides some 7,800 square metres of laboratory, write up and office space on four levels, including Category 3 laboratories which will hold world class Category 3 facilities such as TB.
LSTM will be the only organisation capable of taking drug research from molecule design to first studies in man through to large scale clinical trials, before manufacturing is transferred to bio-manufacturing specialists for commercial production and marketing. CTID will also provide training for biotech graduates and build links with the international pharmaceutical industry.