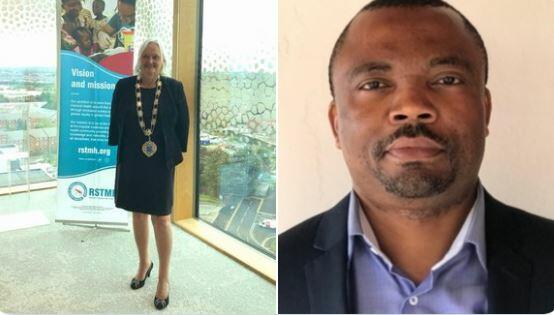 LSTM's former Director, Professor Janet Hemingway, has become the President of the Royal Society of Hygiene and Tropical Medicine (RSTMH), delivering her address as President during their annual general meeting in Liverpool. At the same meeting LSTM's Professor Charles Wondji was named as RSTMH 2021 recipient of the Chalmers Medal.
Professor Hemingway remains a Professor of Vector Biology at LSTM and is the founding Director of the Infection Innovation Consortium (iiCON), a global centre for infectious disease R&D. Established in 2020 with government funding through the UK Research and Innovation's flagship Strength in Places Fund, iiCON's collaborative £173.5 million programme has established a world-leading centre of infectious disease R&D in the North West of England.
The consortium aims to reduce the global burden of infectious disease – saving and improving millions of lives by enabling innovation and accelerating the discovery, development and deployment of new treatments and products for patients and communities. iiCON is led by LSTM and its partners include Unilever, Evotec, Liverpool University Hospitals Foundation Trust, University of Liverpool, and Infex Therapeutics.
Professor Hemingway was Director of LSTM between 2001 and 2019, overseeing a period of growth which included the awarding of Higher Educational Institution Status and degree awarding powers. Whilst serving as Director, she was also the first CEO of the Bill and Melinda Gates funded Innovative Vector Control Consortium (IVCC), which she initiated. The product development partnership was created in 2006 to stimulate the development of new public health insecticides for malaria and dengue control with an initial $50M investment from the Foundation.
In her address, Professor Hemingway said: "The COVID pandemic has highlighted the need for an organisation like RSTMH that focuses on health needs in the tropics and encourages and supports people of all nationalities to engage with this agenda at different stages of their careers."
At this year's AGM, LSTM's Professor Charles Wondji was named as RSTMH 2021 recipient of the Chalmers Medal, which recognises researchers in tropical medicine or global health who demonstrate evidence of mentoring and professional development of junior investigators, and other forms of capacity building.
Professor Wondji, who is a professor of vector biology and genetics at LSTM and the Executive Director of the Centre for Research in Infectious Diseases (CRID), Cameroon, said: "Because all humans have the ability to perform to the highest level if given the right support and mentorship, capacity building of young scientists, notably from Disease Endemic Countries, is vital to improve health."