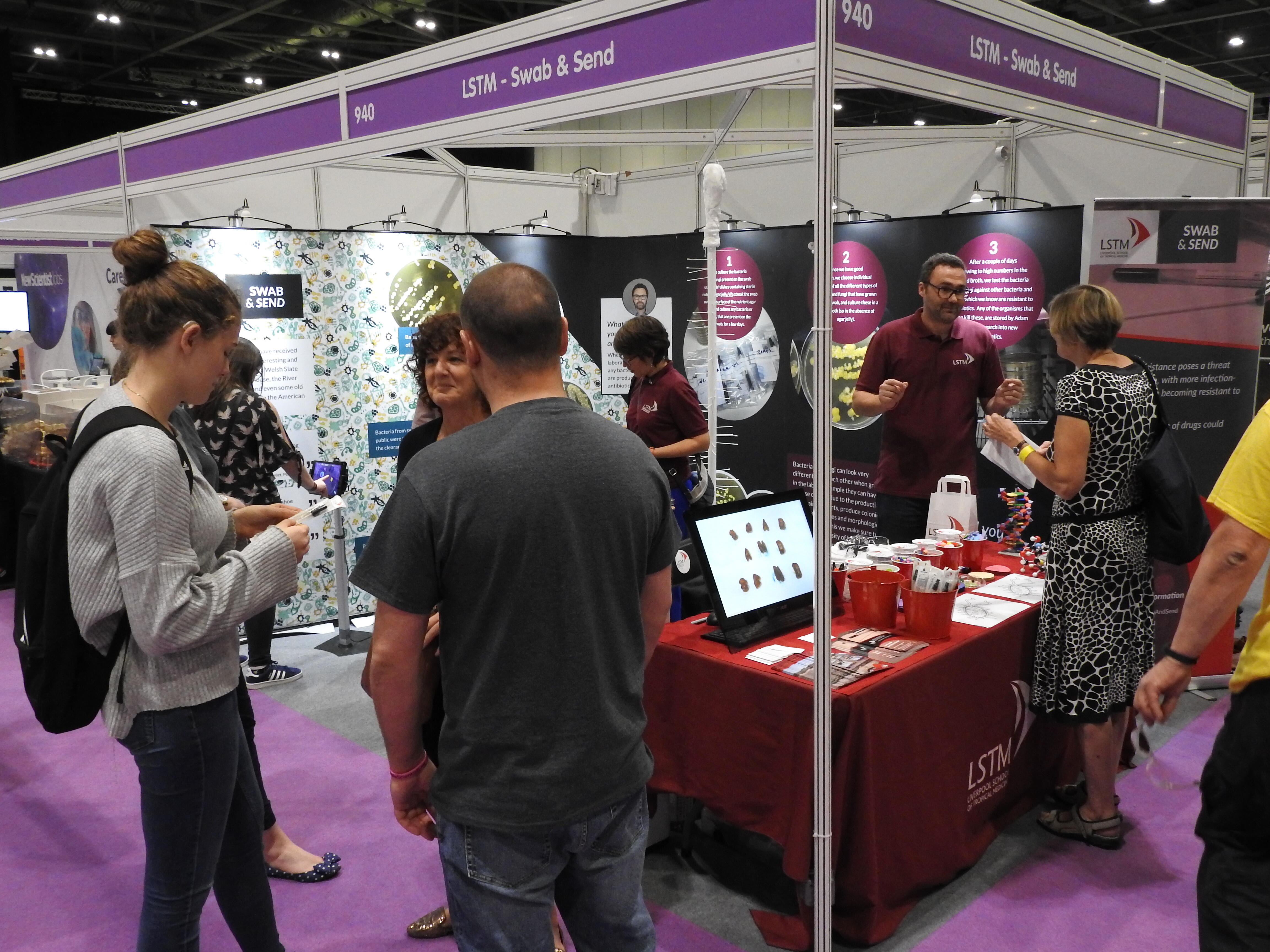 The New Scientist Live Exhibition opened this week at the ExCel exhibition centre in London with LSTM's Dr Adam Roberts's Swab and Send project as one of the exhibitors. The exhibition is a four-day long display of the most exciting cutting-edge science developments in the UK, where the public can meet scientists, try some of the hands-on activities or attend inspiring talks. 
The first day of this annual festival of ideas and discovery saw a diverse range of talks by astronaut Tim Peake and Professor Serge Wich, primate biologist and a regular guest of LSTM's SciFri feature on BBC Radio Merseyside.
The Swab and Send team encouraged the exhibition audience to engage with the 'Tower of Swabs', a giant swab structure constructed by the team with real swabs positioned around the tower for the public to touch and interact with.  The public were also encouraged to take swabs of their home environment, and occasionally sites within the ExCel. The public did not disappoint and, as such, were incredibly imaginative in their swab taking suggestions!
Back in Dr Robert's laboratory, the team will process all the swabs collected during The New Scientist Live Exhibition, in the hunt for next antibiotic, including those from the Tower of Swabs and those sent back to the team over the coming weeks. The team will be searching for bacteria or fungi that may be producing antibiotics, an important task considering there has not been a novel antibiotic discovered in the past few decades.
Members of the public also had the opportunity to talk to Dr Roberts and his Swab and Send team and discover how bacteria have adapted to fight back against antibiotics.  Through discussion, the public discovered what the world would be like if effective antibiotics no longer existed. In addition, the team showcased Nesta's Superbugs mobile game application aimed at 11 to 16-year olds and freely downloadable from Google Play and Apple's Play Store.  The aim of the game is for players to survive as long as they can against superbugs by wisely utilising existing and new antibiotics. LSTM's Public Engagement Manager Dr Elli Wright said "It was great for the audience to play Nesta's Superbugs game as part of the Swab and Send exhibit at New Scientist Live, as this helped to engage with the older children and teenagers in the audience, an often hard to reach group at exhibitions."
In addition, the Swab and Send team had several interactive activities to engage younger members of the audience including making their own bacterial swab plates out of craft materials! Dr Wright continued: "It was a fantastic opportunity to be a part of the New Scientist Live Exhibition, the team worked non-stop engaging with the public who were delighted to take part in Swab and Send evidenced through their imaginative suggestions of places to swab! This Swab and Send exhibit at the New Scientist Live was a culmination of a lot of hard work by the team developing interactive game ideas and taking part in the Science Lates at London's Science Museum in the lead up to the exhibition."