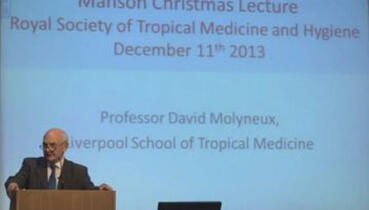 The Manson Christmas Lecture, delivered by Emeritus Professor and Senior Professional Fellow, David Molyneux at the Royal Society of Tropical Medicine and Hygiene (RSTMH)  in December last year is now available to view online.
Professor Molyneux delivered the lecture, titled "Neglected Tropical Diseases: now more than just the 'other diseases': the post 2015 agenda", at the start of a whole day of short oral and poster presentations outlining the unpublished research of young researchers and students from institutions across the UK. His lecture is now available on YouTube.
Professor Molyneux was awarded the Manson Medal, the RSTMH's highest mark of distinction in October last year. The medal is awarded tri-annually and has been presented since 1923 to the individual judged most deserving by the Society, in terms of their long standing contribution in the field of tropical medicine.
Professor Molyneux has worked tirelessly to promote Neglected Tropical Diseases (NTDs) as deserving of increased attention by the global health community and has acted as an advisor to the World Health Organisation (WHO) on disease control programmes for trypanosomiasis (sleeping sickness), onchocerciasis (river blindness), lymphatic filariasis (elephantiasis) and guinea worm.
David was first appointed to LSTM in 1968 and was Director between 1991 and 2000. He retired as Director in 2000 to establish what is now known as the Centre for Neglected Tropical Diseases, (previously the Lymphatic Filariasis Support Centre), whilst retiring from full time work in 2008 he remains active in a part-time advisory / advocacy capacity.
He has been the recipient of several awards throughout his career, including an Honorary Fellowship of Liverpool John Moores University.