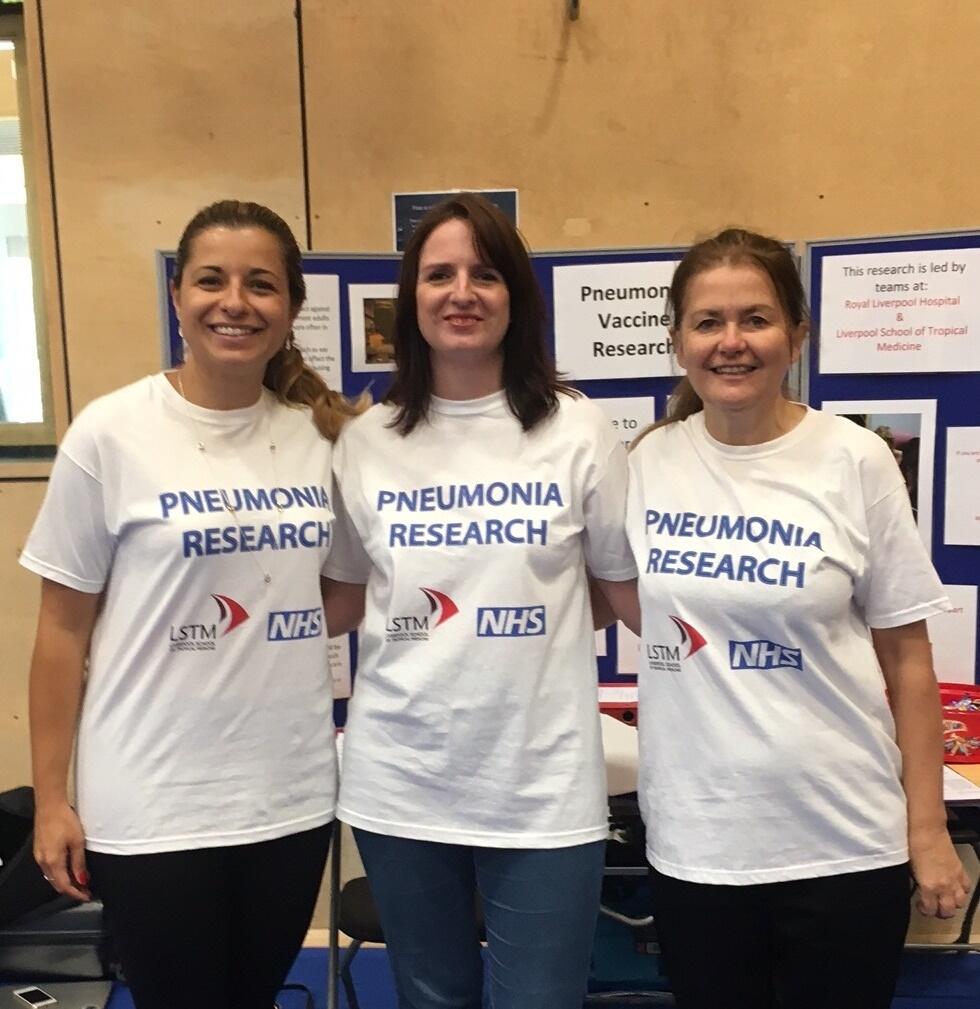 The Respiratory Research Team, a partnership between LSTM and the Royal Liverpool and Broadgreen University Hospital NHS trust, has been shortlisted as part of the 2017 North West Coast Research and Innovation Awards.
Utilising the unique model designed at LSTM to challenge and monitor pneumococcal carriage in healthy volunteers, the team has been shortlisted in the Delivering Research in Collaboration category.  Shortlisted due to its success in the recruiting volunteers to the study, the unique partnership brings together multiple collaborators and stakeholders to deliver complex research on pneumonia vaccines that will save millions of lives in the UK and globally.
The collaboration links vaccine development experts in Liverpool and over 30 research laboratories worldwide, the North West Clinical Research Network and local Research & Development Teams, General Practitioners and NHS Clinical Research Unit at the Royal Liverpool Hospital in addition to previous study participants. The team's success so far is evident in the fact that it has recently exceeded recruitment targets ahead of time with 507 volunteers consented to a Clinical Trial of an Investigational Medicinal Product within 12 months and over 3000 follow up appointments and 10,000 samples collected in 18 months
LSTM's Senior Lecturer, Dr Daniela Ferreira, leads the team. She said: "Our collaboration has the potential to translate novel universal pneumonia vaccines using a fraction of time, number of volunteers and costs of larger field trials. The strengths of the collaboration are the width and depth of International experts and scientists working closely with clinicians and nurses, ensuring research and sampling methods can be continuously improved so the best possible experience is provided for research participants and a subsequent reliable collection of samples for collaborators - with over 30 laboratories and leading experts worldwide have requested samples collected so far."

Along with the Respiratory Research Team, LSTM's Dr Ben Morton was also nominated in the Research Student of the Year category. Dr Morton is a consultant in critical care medicine and anaesthesia at Aintree University Hospital and an Honorary Clinical Research Fellow at LSTM.  
The North West Coast Research and Innovation Awardsis a collaboration between the Innovation Agency, (the Academic Health Science Network for the North West Coast), the NIHR Clinical Research Network North West Coast; and NIHR Collaboration for Leadership in Applied Health Research and Care North West Coast (CLAHRC NWC).
The aim is to celebrate success for the excellent work being undertaken across the region in clinical research and innovation in health and the winners across all the categories will be announced at an event at the Hilton Liverpool Hotel on 9 February, hosted by medical journalist and broadcaster, Lawrence McGinty.