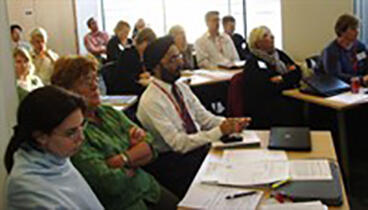 From 2-4 March 2011, the TREAT TB (Technology, Research, Education and Technical Assistance for TB) Partners' Meeting was hosted by Dr Bertie Squire's team within the Collaboration for Research & Systems in TB and HIV-AIDS (CRESTHA) at Liverpool School of Tropical Medicine, UK. Thirty four participants from various partner organizations travelled from 11 different countries to assess the progress of research activities, review plans for future work and meet new members of the team. 
TREAT-TB is a five year initiative supported by a USAID Cooperative Agreement and co-ordinated by The International Union Against Tuberculosis and Lung Disease (The Union). The initiative encompasses a number of projects including using a systems approach to assess the impact of the Line Probe Assay (LPA) on the diagnosis and initiation of MDR-TB treatment within a routine operational setting (PROVE-IT LPA) in Brazil, South Africa and Russia; modeling activities; systematic reviews; Operational Research Assistance Projects in South Africa; and the first randomised controlled trial of MDR treatment (STREAM) which will be implemented by the Medical Research Council-UK and will be conducted in four different countries beginning in 2011 . Members of the LSTM team, led by Dr Bertie Squire include; Gillian Mann (Health Economist), Ivor Langley (Operational Research Analyst), Kerry Millington (Implementation Research Scientist), Rachael Thomson (Research Manager), Russell Dacombe (Laboratory Systems Specialist) and Helen Rigby (Administrator), who are involved in multiple TREAT TB projects but primarily in assessing the epidemiological and public health impact of PROVE-IT LPA and STREAM.
This Partners meeting marked the half-way point of the TREAT TB initiative on the path of building a successful research partnership model to stimulate changes in international standards and practice in ways that serve country needs.