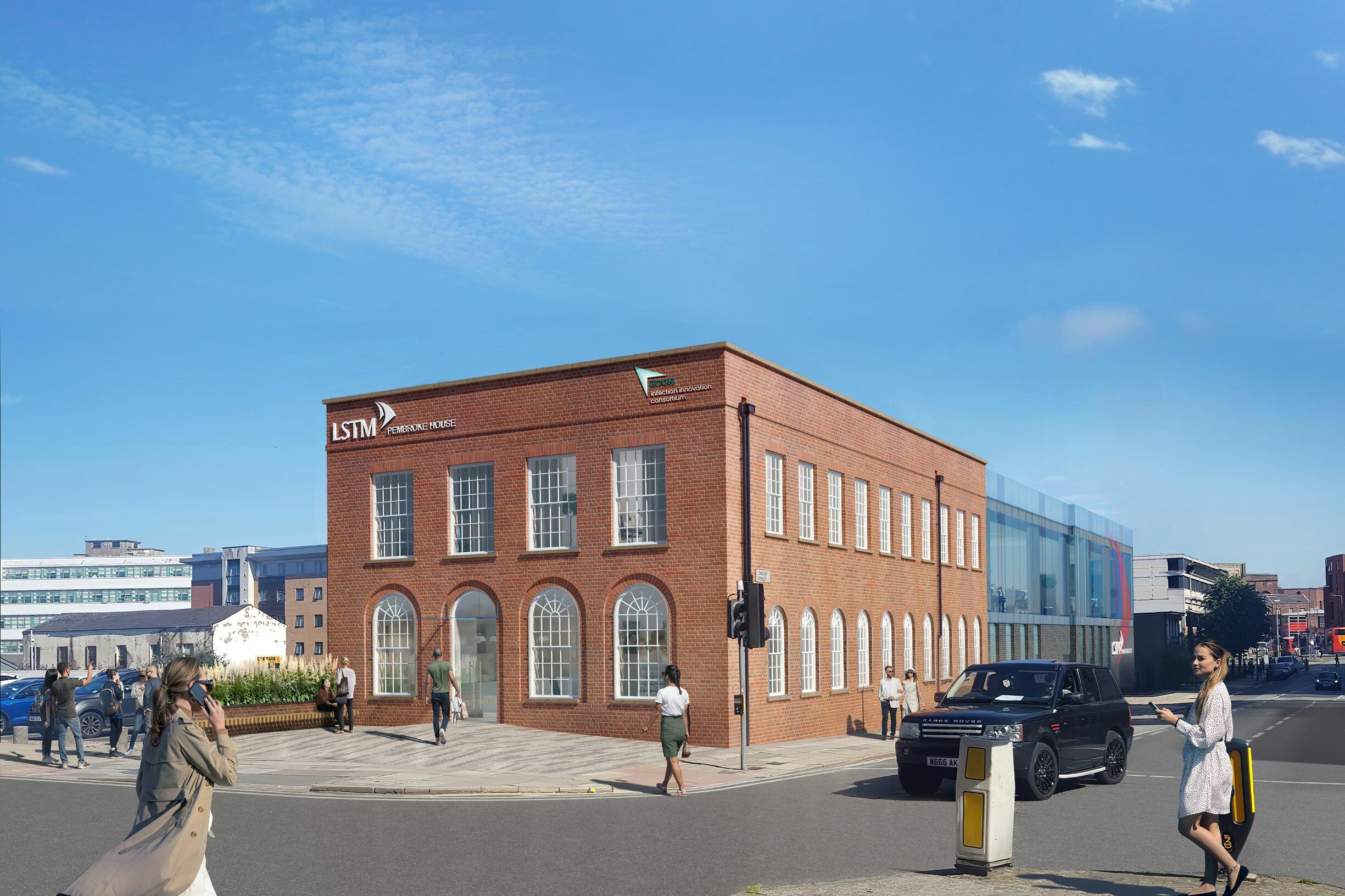 Plans have been revealed for a new multi-million-pound centre in the Liverpool City Region that will develop the next generation of global health leaders, accelerate the development of transformative technologies, and future-proof the region as a world-leading centre for infection innovation, research, and learning.
Secured with funding from the Liverpool City Region Combined Authority (LCRCA), the centre will be operated by LSTM and the Infection Innovation Consortium (iiCON).
The new centre responds to a growing need for a step-change in training to equip health professionals to deal with the global health challenges of the future, including emerging pandemics, drug resistant infections, and rapid mass outbreaks of infection.
Building on the Liverpool City Region's world-leading capability in infectious disease research and innovation, it will provide a bespoke centre for world-class collaborative and interactive online learning, industry collaboration, and community engagement and training.
Located in Pembroke House, on the corner of London Road and Daulby Street, the centre will sit in the heart of Liverpool's Knowledge Quarter and will undergo an extensive refurbishment. Its external façade will be retained while internal works will deliver an attractive, contemporary space with state-of-the-art facilities with immersive and experiential technologies at its core.
Work is due to complete ahead of LSTM's 125th anniversary in 2023.
The centre will enable LSTM to expand its teaching portfolio and support impactful global partnerships with multiple stakeholders in teaching and research. It will enhance LSTM's educational collaboration with overseas partners and students, linking learning on-campus in Liverpool into a world-class, globally connected digital learning environment. Offering innovative learning platforms and cutting-edge facilities, including immersive reality technology, the centre will be used to train future health leaders, both globally and across the Liverpool City Region and wider North West, and support increasing industry, NHS and academic collaboration.
iiCON, which has established a world-leading centre of infection R&D in the North West, will utilise the centre to drive forward impactful partnerships between industry, research, and the NHS to support pioneering infection innovation R&D, contributing to the Liverpool City Region target of R&D increasing to 5 per cent of GDP.
Through the consortium, companies will be able to access high-quality professional and industrial training, alongside opportunities for high-quality networking and partnering. This will be critical in facilitating the research/industry interface and will act to rapidly connect iiCON's innovative research with industry. The centre will create a rich eco-system where co-innovation will thrive, leading to the development of disruptive and transformative technologies that will strengthen pandemic resilience and bolster the global response to infectious diseases.
iiCON will support industry and academic partners to nurture innovation and accelerate new products to market with access to training and bespoke workshops at the centre. These will explore topics including how to access venture capital funding, intellectual property law, project management, and business development. Community engagement is central to the new centre. Pembroke House will be a regional focal point for increasing STEM awareness in the community, helping to bolster workforce development and future-proof the region's capability in Infection Innovation and R&D.
The centre will also be used to support LSTM and iiCON's ongoing collaborations with regional partners, including Everton in the Community, to engage with young people and those living in the local community around the career opportunities available in health and life sciences and infection innovation.
Leading philanthropic organisations including The Garfield Weston Foundation and Lord Leverhulme's Charitable Trust have supported the development of the new centre with generous donations.
Professor Janet Hemingway, iiCON Director, said: "Pembroke House will act as a catalyst for innovation, bringing together industry, academia, and our regional community in world-class facilities where collaboration will thrive, and the next generation of talented global health leaders will be trained and inspired."
"Having a dedicated space to support and enable our industry partners on their innovation journey through high-quality training, networking, and partnering is at the heart of the iiCON ambition. We're delighted to be working with our consortium lead, LSTM, to deliver this incredibly exciting project that will future-proof the Liverpool City Region's position as the world's leading centre for infection innovation for this and future generations."
Dr Martyn Stewart, LSTM's interim Head of Education, said: "LSTM's mission has always been about training global health leaders of the future, and Pembroke house will enable us to deliver a student-centred authentic context for learning. Through scenarios, simulations and immersive learning we will be able to replicate real world situations for our students both in the UK and, exploiting the connectivity that the centre will have to offer, those overseas too.
"This enhanced connectivity will also allow us to expand a learning community together with overseas partners, particularly in low- and middle-income settings. Working with teaching staff, themselves with vast real world experience, and with access to industry partners means that LSTM is able to offer a space to develop students who can go forward to make a difference."
Steve Rotheram, Metro Mayor of the Liverpool City Region, said: "Our region is a global leader in understanding and tackling infectious diseases, and we're continually striving to innovate and futureproof ourselves against the viruses and pandemics of the future. I believe that the tools for battling future global health emergencies will be developed in the Liverpool City Region."
"This new centre of excellence at Pembroke House will be another vital string to our bow, a crucial tool to train the next generation of innovators and health leaders. It is a tangible example of the difference we can make when local political leaders, academia, the public and private sectors come together to share our vision and expertise."
"I want our region to be known as the global epicentre for tackling infectious diseases, a home to high-skilled, well-paid jobs that will save countless lives across the world for many years to come."
LSTM is the world's oldest centre of excellence in tropical medicine and international public health. It has been engaged in the fight against infectious, debilitating and disabling diseases since 1898 and continues that tradition today with a research portfolio over £320 million and a teaching programme attracting students from over 65 countries.
Established in 2020 with government funding provided through UK Research and Innovation's flagship Strength in Places Fund, iiCON is a collaborative £173.5 million R&D programme that has established a world-leading centre of infectious disease R&D in the North West of England.
iiCON aims to reduce the global burden of infectious disease – saving and improving millions of lives by enabling innovation and accelerating the discovery, development and deployment of new treatments and products for patients and communities. iiCON is led by the Liverpool School of Tropical Medicine (LSTM). Its partners include Unilever, Evotec, Liverpool University Hospitals Foundation Trust, University of Liverpool, and Infex Therapeutics.
To find out more about Pembroke House, visit: Pembroke House | LSTM (lstmed.ac.uk)