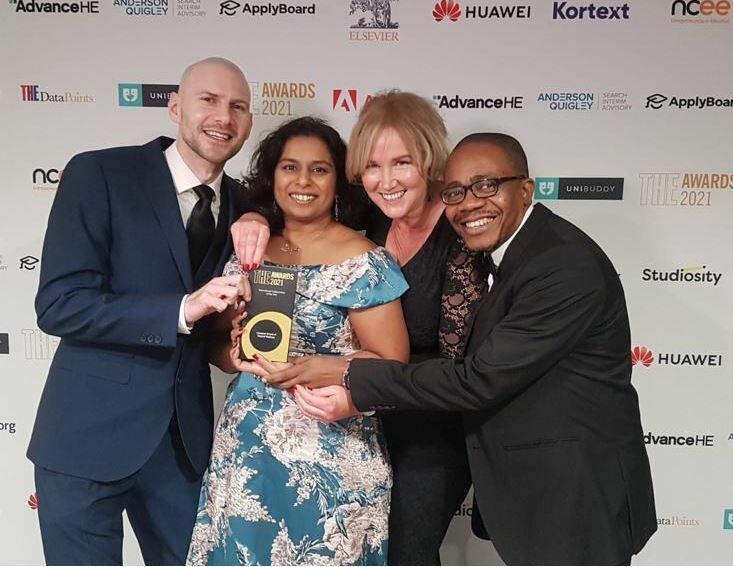 The RESPOND-Africa partnership lifted the 'International Collaboration of the Year'trophy at the seventeenth annual Times Higher Education (THE) Awards on Thursday evening.
The awards attract hundreds of entries from individuals, teams and higher education institutions from all corners of the UK and, for the first time this year, Ireland too. Nearly a thousand people gathered in London to celebrate the sector's recent achievement in 20 categories.
According to the judges "RESPOND-Africa's entry stood out for creating a series of partnerships that have resulted in a step change in research and policy."
They continued: "The range of partnerships including universities, civil society, policymakers and patient groups was impressive, as was the training and collaborative and inclusive nature of the partnerships, making a huge difference to people's lives and leaving a tangible and adoptable model for other countries to consider."
In response to the news RESPOND-Africa co-director Professor Shabbar Jaffar said: "This is fantastic news. I work with such wonderful people, both here in the UK, in Europe and in sub-Saharan Africa so building this partnership has been very easy for us all and it has been tremendous fun."
He continued: "Central to this partnership is that we conduct rigorous research, designed to inform health policy and practice globally for the control of high disease-burden conditions. To see that recognised with this award is amazing."
After having been shortlisted for the award earlier, Professor Jaffar wrote an article for THE on successful international collaborations built on trust, appropriate recognition and inclusiveness in decision-making.
The Respond-Africa partnership started as a bid to address the question of how health systems in sub-Saharan Africa should be reorganised to tackle non-communicable conditions such as diabetes and hypertension.
Health services for these diseases have been fragmented in Africa. The project wanted to engage with healthcare workers and policymakers on the ground about how best to redesign services for maximum impact.
This resulted into a partnership between researchers in the UK, Tanzania and Uganda through seed funding of £2 million that supported initial research. By 2020, four major grants worth more than £12 million from different funders had been secured.
Today, the partnership involves 14 main research partners (four in the UK, three in Europe and seven in Africa), five civil society organisations, and policymakers and patient groups in three African countries.
The research has influenced health policies and changed disease control practices. In Uganda, reorganisation of healthcare started in late 2020; Tanzania is in the final stages of drawing up a similar strategy; and discussions have started in Cameroon, the newest African partner.
At the award ceremony LSTM's Paul Rowley, from the Centre of Snakebite Research and Interventions (CSRI) was highly commended in the Outstanding Technician of the Year category and Dr Rachel Tolhurst was shortlisted in Outstanding Research Supervisor of the year category.