The Centre for Snakebite Research & Interventions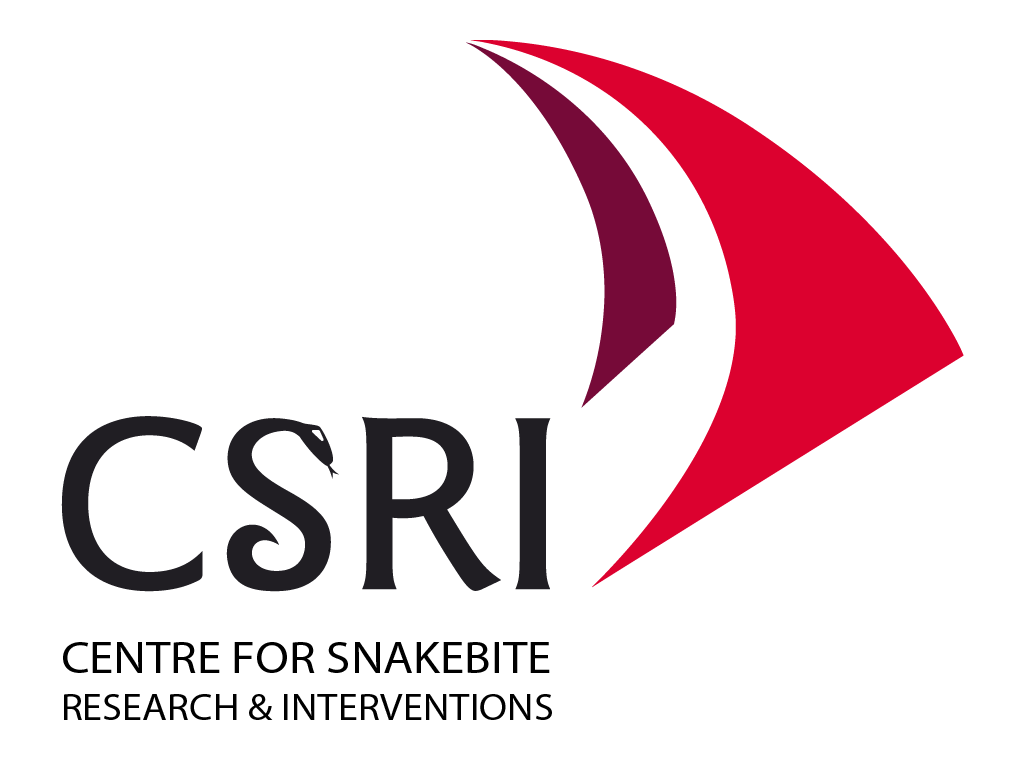 Snakebite is a Neglected Tropical Disease that annually kills 81,000-138000 people residing in some of the world's most disadvantaged subsistence farming communities, and leaves 400,000 surviving victims with permanent physical disabilities/disfigurements. It is the rural impoverished African and Asian communities, and particularly the most economically important and educationally vulnerable 10-30 year olds, that suffer disproportionally high rates of snakebite mortality and morbidity. Snakebite is therefore both a consequence and cause of tropical poverty.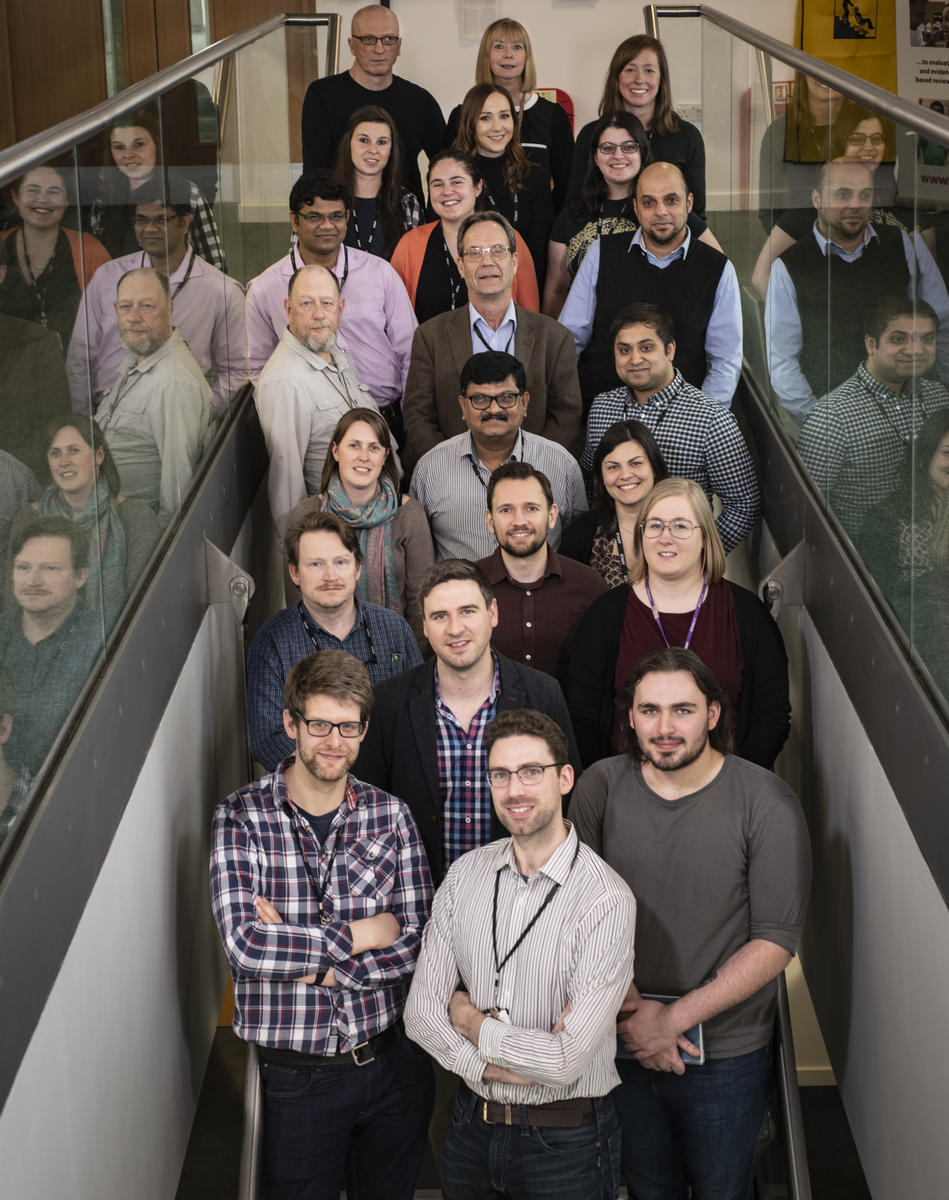 Throughout the 50-year history of the Centre, its objective has been to conduct a diverse portfolio of research activity to better understand the biology of snake venoms and use this information to improve the efficacy, safety and affordability of antivenom treatment of tropical snakebite victims. The Centre and its staff, led by Professor Rob Harrison, is part of the LSTM Department of Tropical Disease Biology and herpetarium hosts the largest and most diverse collection of tropical venomous snakes in the UK to support its research activities.
The combination of the Centre's venomous snakes with its extensive research activity is one of the main messages of our UK-unique 'Key Topics in Snakebite' MSc module, and a potent illustration of how UK research benefits human health in the tropics – a message we enthusiastically deliver to fulfill our frequent media requests, and that is central to our many other public engagement activities.
Our research 
The Centre has a strong record of undertaking basic biological research and therapeutic research relating to the venom system of snakes and, on occasion, other venomous animals. These studies reflect our interest in understanding (i) the processes that generate variation in the toxin components found in the venom of different snakes, (ii) how snakes protect themselves from the toxicity of their own venom and (iii) how the snake venom system has evolved. This research has been published extensively in the scientific literature.
Our research often employs multi-disciplinary approaches, and consequently the Centre has expertise in fields such as immunology, biochemistry, molecular biology, genomics, bioinformatics, evolutionary biology, and public health, and has many valuable collaborators. Our research is funded by a variety of national and international funding agencies, and the outputs of these projects such as EchiTAb have resulted in substantial societal impact, through the delivery of antivenom to impoverished people, and scientific impact, through a number of notable publications in the scientific literature.
Education
Education is one of the main activities of the Centre both at LSTM and overseas with our international partners in LMICs. Within the MSc programmes offered by the school the Centre hosts the unique 'Key Topics in Snakebite' MSc module.
Over the past four years the herpetarium has welcomed 3,000 visitors including members of the Armed Forces, school and college pupils and undergraduate and post-graduate university students. These tours have had the aim of increasing community awareness as well as educating medical personnel on the importance of snakebite.
As part of our research, we have developed community snakebite education, which is delivered at local village meetings by nurses and community health volunteers. The education includes information on snakebite prevention, first aid measures, and the need to seek urgent medical attention, either using one of our motorcycle ambulances or otherwise. The reach, efficacy, adoption, implementation and maintenance of this health promotion work will be evaluated.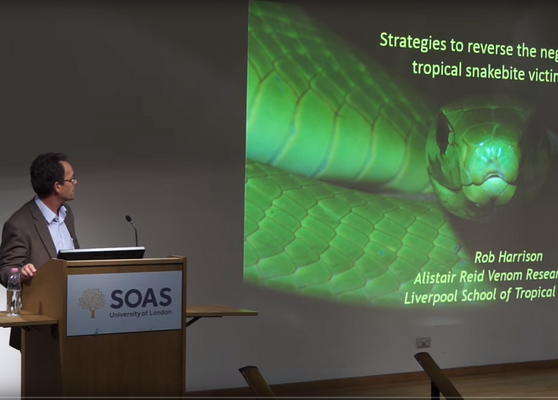 Advocacy and impact
The Centre for Snakebite Research and Intervention and its associated partners are involved within global policymaking and advocacy for snakebite. Professor Robert Harrison and Professor David Lalloo, the director of LSTM, were key writers of the 2019 WHO strategy to reduce the death and disabilities caused by snakebites by 2030; the Snakebite Envenoming: A strategy for prevention and control. Similarly, Professors Lalloo, Harrison and Casewell were consulted by Wellcome trust on their 7 year, £80m strategy for Snakebite which was announced in May 2019. Furthermore, the group is involved with the All-Party Parliamentary Group (APPG) on Malaria and Neglected Tropical Diseases (NTDs) in which the issues of tropical snakebite and the global burden were presented to both MPs and members of the House of Lords.
To increase the awareness of snakebite the centre and its herpetarium are regularly used by various television networks with the UK and globally such as the BBC, BBC radio, ITV news, TedxTalks, and newspapers.
The research conducted within CSRI has been published extensively in the scientific literature.
EchiTAb Study Group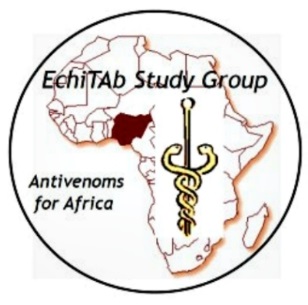 The EchiTAb Study Group was a collaboration between the Nigerian Federal Ministry of Health, CSRI (then the Alistair Reid Venom Research Unit) and the University of Oxford to resolve the antivenom crisis in Nigeria. With Nigerian Government funding, the EchiTAb Study Group imported the most medically-important Nigerian snakes into Liverpool, extracted their venom and provided it to antivenom manufacturers in UK (MicroPharm Ltd) and Costa Rica (Instituto Clodomiro Picado) who developed (i) a monospecific antivenom to the saw-scaled viper and (ii) a polyspecific antivenom to treat envenoming for Echis ocellatus, Bitis arietans and Naja nigricollis.
Scientific Research Partnership for Neglected Tropical Snakebite (SRPNTS)
The outcome of the Scientific Research Partnership for Neglected Tropical Snakebite (SRPNTS) is to reduce the global morbidity and mortality of snakebite by introducing next-generation snakebite therapies (NGSTs) that have a target product profile (TPP) that enables affordability, access, delivery, and sustainability. To this end, SRPNTS is pioneering new research that is contributing not only to our basic understanding of venom toxicology and immune responses to venom toxins, but also focuses on translating these findings into products for global access.
The African Snakebite Research Group (ASRG)
ASRG is a four-year £2.5 million collaboration programme funded by the National Institute for Health Research under the first Global Health Research Programme call launched in 2016.
The ASRG is hosted by LSTM and, working in collaboration with partner organisations in Kenya and Nigeria, will establish self-sustaining regional hubs of snakebite expertise in Kenya and Nigeria, to support national and regional authorities design and implement systems to reduce snakebite deaths and disability.
Public engagement: documentaries and news items
Professor Rob Harrison's presentation on Tropical snakebite.
In The Biomedical & Life Sciences Collection, Henry Stewart Talks.
Retrieved May 15, 2020, from https://hstalks.com/bs/3973/.
The Herpetarium
The Herpetarium is a UK Home Office accredited and inspected experimental animal facility and is a critical resource for all the activities of the Centre. Our lead herpetologist, Paul Rowley, and his assistant Edouard Crittenden provide specialist care for what is the largest and most diverse collection of venomous snakes in the UK. There is a special emphasis on the African continent with the majority of our snakes being haemotoxic vipers such as Saw-scaled vipers (Echis spp.), Puff adders (Bitis arietans), Gaboon vipers (Bitis gabonica) and neurotoxic elapids such as the Black and Green mambas (Dendroaspis spp.) and several spitting and non-spitting cobras (Naja spp.). Paul Rowley, with the assistance of Rob Harrison and Edouard Crittenden, extracts venom from our snakes at regular intervals and this venom is immediately frozen and subsequently lyophilised and then stored at 4oC. The venom is used for antivenom production, and for our therapeutic and basic science research.
News and events from CSRI
CSRI Funders