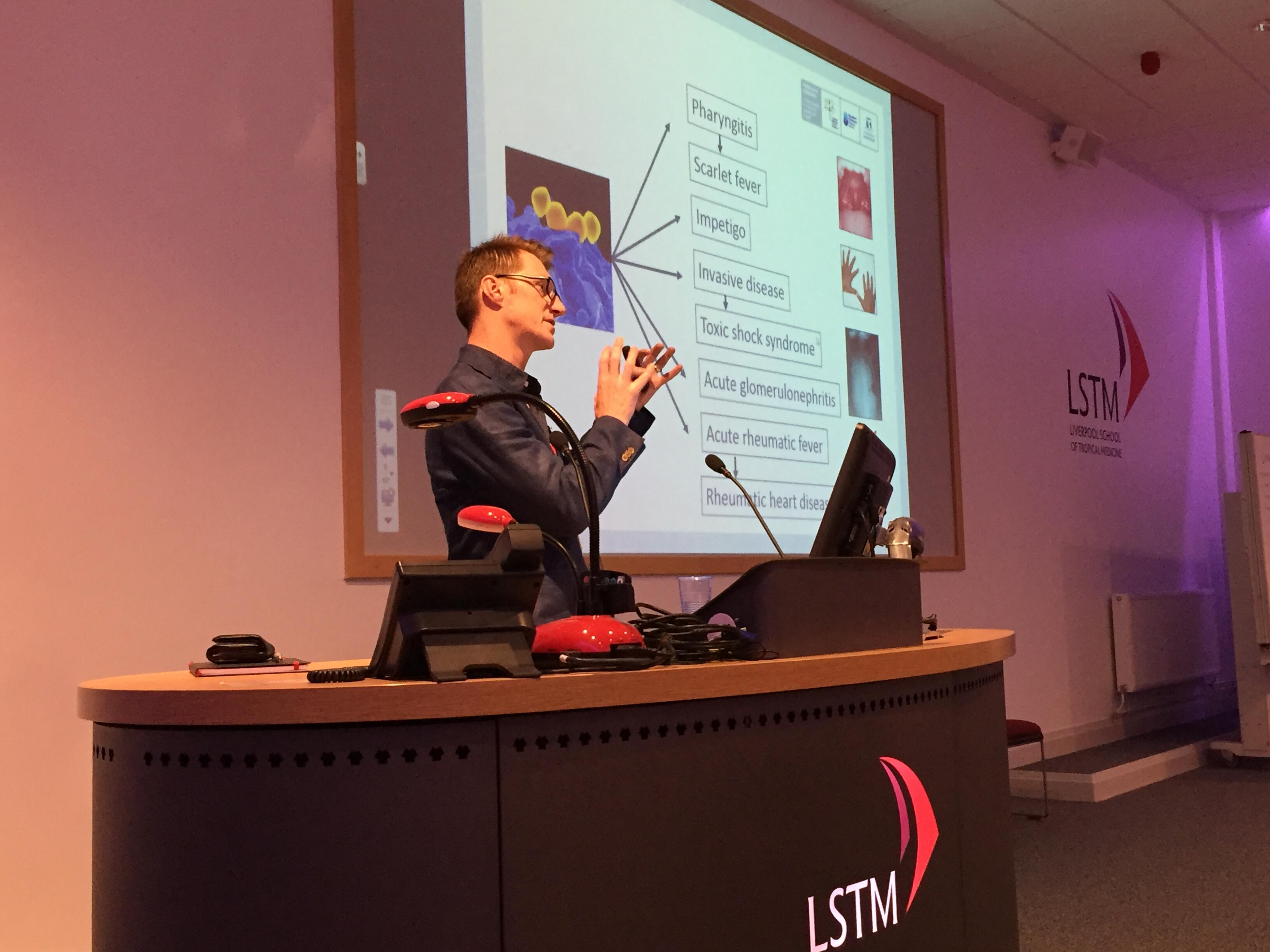 LSTM's Seminar Series continued with a presentation by Associate Professor Andrew Steer, consultant paediatrician and infectious diseases physician at the Royal Children's Hospital Melbourne, Australia; principal research fellow at the Centre for International Child Health at the University of Melbourne; and group leader of the Group A Streptococcal Research Group at the Murdoch Children's Research Institute, Melbourne.
Professor Steer's talk entitled: 'tackling rheumatic heart disease: from antibiotics to ultrasound to ivermectin to vaccines' , was introduced by LSTM's Dr Daniela Ferreira, Senior Lecturer in Mucosal Infectious Diseases and Vaccinology, and described the innovative approaches to the public health control of this neglected disease. 
He began his talk explaining that rheumatic heart disease is a chronic non-communicable disease that begins with common childhood infections such as pharyngitis, often caused by group A streptococcus. It is the recurrence of these infections that can result in the development of rheumatic heart disease in adult life and affects nearly 20 million people globally, causing more than 300,000 premature deaths per year.  He highlighted the different strategies that have been considered to control the incidence of rheumatic heart disease including heart surgery, monthly doses of penicillin to prevent disease progression, the identification and treatment of sore throats and vaccine usage. Throughout the talk, Professor Steer illustrated the barriers to these preventative measures including access to healthcare and antibiotics, staff availability to provide these preventative interventions and the lack of appropriate diagnostic tests.
Professor Steer continued by describing various successful programmes that have been set up to reduce the incidence of rheumatic heart disease in the Pacific region including the New Zealand Rheumatic Fever Program and Fiji GrASP, which assessed the effectiveness of ultrasound compared to stethoscopes for the screening of rheumatic heart disease, with ultrasound being found to be 10 times more effective in relation to case identification, This led into the current programmes which aim to enhance disease prevention and detection, develop national guidelines and determine whether screening should be nurse-led.
Furthermore, Professor Steer suggested a role for the neglected tropical disease scabies and resultant skin infections in the pathogenesis of rheumatic heart disease. He described a number of studies which aim to improve skin health, the incidence of scabies and subsequently the reduction of rheumatic heart disease cases throughout the Pacific Islands.  He ended his talk by describing the potential for vaccine development against group A streptococcus due to the protective immune response which develops following these infections, and the role for human challenge models. Professor Steer then took a number of questions from the audience.
A recording of the Seminar can be found here: