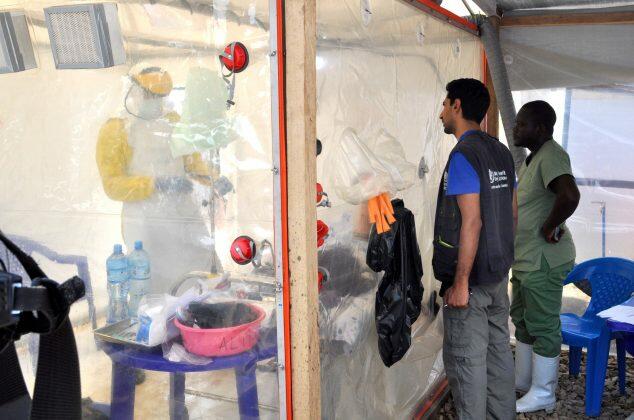 On 13-14 June the NIHR funded Health Protection Research Unit in Emerging and Zoonotic Infections will be hosting a conference at the Liverpool School of Tropical Medicine, jointly organised by Public Health England, University of Liverpool and Liverpool School of Tropical Medicine to debate and discuss issues around high consequence infectious disease.
The ongoing outbreak of Ebola in DRC and the recent one in West Africa highlight the potential ability of emerging pathogens to cause public health crises of international concern. Associated imported cases of high consequence infectious diseases have a high case fatality rate with a lack of proven effective treatments. They present challenges in rapid recognition and coordination is required at a national level to ensure an effective and consistent response. This two-day symposium will provide participants with a unique opportunity to hear from world-class speakers with first hand expertise of researching and managing a range of HCIDs. We aim to cover the broad picture of this emerging threat, and the challenges that arise from it.  Our program is enriched with a combination of experience and lessons from the field, but also includes basic research that is leading to innovation approaches in diagnosis and treatment. The symposium is of interest for a broad range of health specialists including  clinicians, scientific researchers, public health specialists as well as policy makers.
We have curated a programme of high profile speakers and experts in infectious disease including:
Professor Tatjana Avšič-Županc, Univerza v Ljubljani
Dr Ian Crozier, National Institute of Allergy and Infectious Diseases (NIAID)/ World Health Organisation
Dr Gary Kobinger, Université Laval
Professor Miles Carroll, Public Health England
Dr Shevin Jacob, Liverpool School of Tropical Medicine
Sir Michael Jacobs, Royal Free Hospital
Dr Armand Sprecher, Médecins Sans Frontières
Registration is now open - click here to book your place
Registration is £50 to attend both days of the conference (there is not a separate day rate) and we would encourage you to book your place now as spaces are limited.
If you have any further queries please contact events@lstmed.ac.uk.